With the COVID-19 crisis shedding the brightest light on high-speed Internet's essential role in people's lives, the global gigabit market is projected for continued growth next year, according to a new report from the analyst firm Omdia.
The report notes that over 300 service providers currently offer at least 1Gbit/s speeds, and that those providers offering 10 Gbit/s increased from 29 to 36 in 2020. While Europe has the highest share of operators offering 1 Gbit/s or greater (44%), followed by North America (35%), operators in the Asia-Pacific region make up 50% of the 10Gbit/s market, followed by North America at 36% and Europe at 11%.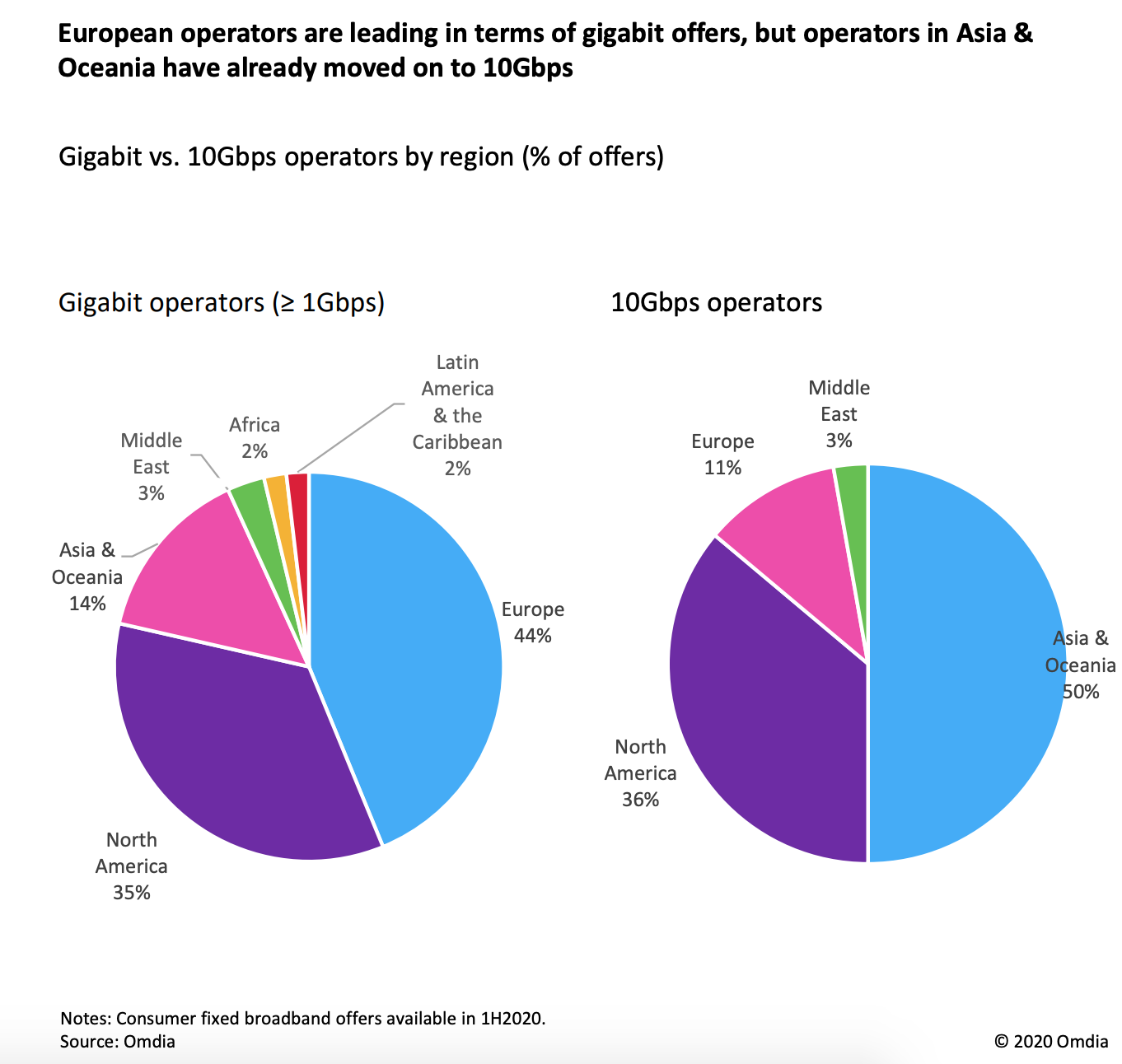 The firm projects that by 2025 there will be more than 187 million gigabit broadband subscribers worldwide.
The 'need' for speed
While gigabit is projected for growth, analysts say it's more about being able to compete in an increasingly crowded gigabit market, as well as with 5G, and less about consumer demand just yet. Thus, Omdia urges operators to consider their business strategies carefully and to offer both bundled services and standalone gigabit.
"Providers will need to differentiate their offering to accommodate customers' needs whilst providing the best value for their service," says report author Alzbeta Fellenbaum, principal analyst of broadband and bundling at Omdia. This includes a range of options from "aggressive" bundling with OTT/entertainment offers; to standalone gigabit offers for people who need ultra-high speeds but are otherwise cutting back on unnecessary spending.
Further, says Fellenbaum, with the COVID-19 crisis looking like it will continue well into 2021, "we might also see more offers targeted for professionals with high-usage patterns required due to the nature of their work and offer separate or tailored solutions that offload the work-related traffic from the home network. With these, service providers might look to offset some of the losses from enterprise and business broadband revenues."
Reliability comes first
As operators seek opportunities to turn up their networks' speed, Omdia also stresses the importance of prioritizing reliability. "While speed is an important factor for many consumers, reliable and stable connectivity is at the forefront of their digital needs in the time of the COVID-19 pandemic and beyond," states the report.
"Service providers need to treat the home network as equally important as the physical network that connects the home. Consumers do not distinguish between the two and they expect to be able to connect to their Internet with a consistent connection quality throughout their whole home," says Fellenbaum. To address this, many providers have started providing consumers with in-home solutions like smart Wi-Fi.
Ultimately, however, Omdia says the need for reliable, future-proof networks will push more operators to invest in full fiber. The firm recommends that players seek to share costs of FTTP deployments by "partnering with wholesale providers or entering into network sharing agreements to eliminate network overbuild" as well as cooperating with municipalities to ease some of the local impediments to rollout.
— Nicole Ferraro, contributing editor, Light Reading