New research from Morning Consult shows that 53% of US adults think that local governments should be able to develop their own broadband services.
The survey was conducted online between April 16 and April 19, 2021, with 2,200 participants. And the data comes at a relevant time, with President Joe Biden's $2 trillion infrastructure proposal inclorporating a $100 billion broadband plan that explicitly supports the exploration and development of municipal Internet services. As per a White House fact sheet, the plan would promote competition and price transparency "by lifting barriers that prevent municipally-owned or affiliated providers and rural electric co-ops from competing on an even playing field with private providers..."
The Morning Consult research reveals bipartisan support amongst the public for municipalities to be able to build their own broadband networks, with 59% support from Democrats and 48% from Republicans. Meanwhile, only 13% and 19% of those groups, respectively, were against the idea; with the middle group responding "don't know/no opinion."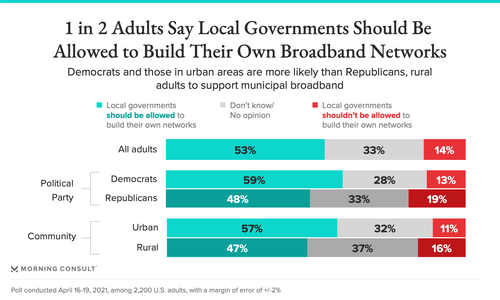 Also notable was that while respondents supported local governments' ability to develop broadband networks, they were more trustful of traditional ISPs to provide services, with 54% saying they trusted municipalities to do the job but 75% expressing trust in private providers.
Furthermore, there was a bit more trust in municipal broadband amongst urban respondents (63%) than among rural ones (49%).
David Gilford, co-founder of the Broadband Equity Partnership – which recently conducted its own poll of local priorities for federal funding – told Broadband World News that the Morning Consult findings are "very much in line" with what he's heard from communities as well.
"Municipalities want all options on the table for closing the digital divide, and they see greater local control over federal funding and implementation as an important enabler," he said.
Prohibitive state laws
Despite the general public's favorable view toward public broadband efforts, several states make it impossible for local governments to pursue their own network builds.
According to BroadbandNow, there are still 18 states with "explicit" restrictions on municipal broadband, and an additional five – Arkansas, Idaho, Tennessee, Washington and Montana – "that make establishing networks more difficult than it needs to be." While not great, that number has fallen recently, with states like Washington voting to undo laws restricting local governments from providing Internet services. (While Washington's bill has passed the state legisslature, it still awaits the governor's signature.)
States like Montana have made similar efforts unsuccessfully. Earlier in 2021, Rep. Kelly Kortum (D-Bozeman) introduced a bill to overturn the state's ban on municipal networks but it failed primarily on party lines in the Republican-led legislature.
Other states with existing restrictions on offering municipal broadband include Alabama, Florida, Louisiana, Minnesota, Missouri, Michigan, Nebraska, Nevada, North Carolina, Pennsylvania, South Carolina, Tennessee, Texas, Utah, Virginia and Wisconsin.
Further, at least one of the proposed broadband bills in the US Congress – CONNECT, or "Communities Overregulating Networks Need Economic Competition," sponsored by Cathy McMorris Rodgers (R-Wash.) and Rep. Bob Latta (R-Ohio) – seeks to curtail further government-led broadband builds with a ban on any new public networks nationwide.
Related posts:
— Nicole Ferraro, contributing editor and host of "The Divide" and "What's the Story?" Light Reading