Calix closed Q1 2021 with good news for investors and a positive outlook for the future.
Reporting 59% annual revenue growth to $162 million ($0.31 per share, up from $0.12 in the year-ago quarter); and Q1 net income of $20.6 million compared to a net loss of $6.9 million in Q1 2020, the company said it went "well above" its financial guidance, according to a letter to stockholders.
The San Jose-based company attributed its successful quarter to "robust" demand and an overperformance of its supply chain despite ongoing complications from the global pandemic.
Among quarterly highlights, Calix called out the addition of 24 new service provider customers; and it boasted a "record quarter" for new Calix Cloud customers with a 70% increase in Calix Marketing Cloud adoption, as well as for its EXOS platform revenue, which execs say was up over 400% from the previous year's first quarter.
Calix also saw a 40% revenue increase from its AXOS platform, for which it credits new and existing customers.
"This strong performance was driven by demand for our All Platform offerings along with an increase in purchases of our legacy system products," said Calix CEO Carl Russo and CFO Cory Sindelar in an investor letter.
Small customers led the way
Calix's success this quarter was thanks to revenue from smaller customers, which grew enough to offset a decline amongst larger customers.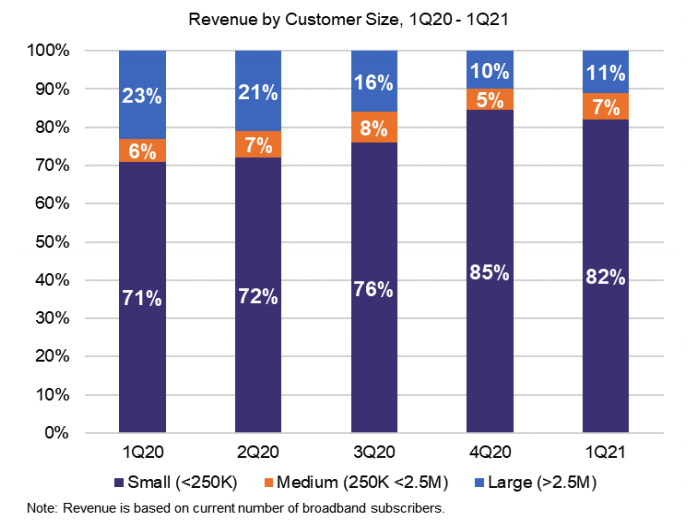 Whereas revenue from small customers was 82% total revenue for the quarter, up from 71% in Q1 2020, large customer revenue was just 11% of total, down from 23%.
Medium-sized customers brought in 7% total revenue, up from 6%.
The company's customer mix has become more diverse over the last several years as its software platforms are catching on with smaller operators. Lumen, which was 18% of Calix's total revenue in 2018, represented 11% of its total revenue in 2020.
Positive outlook
Calix execs say the company's earnings benefited from the massive change to how we live and work during the COVID-19 pandemic, but that those impacts are also expected to last.
"While we benefited from the rearranged working environment caused by the pandemic, it is now clear that we are on the front end of an enormous secular opportunity. It is now clear that we will be returning to a new normal, one that combines the behaviors of the past with the virtual behaviors that we have learned due to the pandemic, and broadband investments will continue to expand to support this new reality," wrote Russo and Sindelar.
As such, Calix offered revenue guidance for Q2 (ending July 3, 2021) forecasting an increase of between 32% and 37% compared to the year ago quarter.
Related posts:
— Nicole Ferraro, contributing editor and host of "The Divide" and "What's the Story?" Light Reading