SpaceX launched an additional batch of 60 low-Earth orbit Starlink satellites into the sky on Tuesday, while announcing that the company's forthcoming Internet service has received 500,000 pre-orders.
"To date, over half a million people have placed an order or put down a deposit for Starlink," said Siva Bharadvaj, SpaceX operations engineer, during a live launch webcast of the most recent Starlink mission.
Starlink began letting in some beta users in the fall of 2020. It then opened up for pre-orders in February 2021, for an upfront fee of $99. In a filing to the FCC earlier this year, SpaceX disclosed having over "10,000 users in the United States and abroad" for Starlink through its beta program.
SpaceX has not confirmed a date for when Starlink's service will go live. Pre-orders are placed under the condition that they will be fulfilled on a first-come, first-served basis, but that they are "fully refundable" and "placing a deposit does not guarantee" service or when it will become available.
Not all are starry eyed
With 500,000 pre-orders, Starlink appears to be in demand, although it's as yet unclear how successful the service will be once it's switched on for all who want it.
That uncertainty isn't sitting well with some industry stakeholders, considering Starlink's receipt of $885.5 million of the $9.2 billion available to bidders in phase I of the FCC's Rural Digital Opportunity Fund (RDOF) auction.
Last week the Fiber Broadband Association hosted a virtual panel focused on why Starlink's low-Earth orbit satellite service walked away from RDOF with so much funding.
Gary Bolton, president and CEO of Fiber Broadband Association, said that a recent analysis of the auction, performed by students at the University of Alabama where he is an adjunct professor, suggested Starlink's success had more to do with the dynamics of the auction than the service's viability.
"The way that the auction was supposed to work is, if you had a gigabit provider and a non-gigabit provider, then the award went to the gigabit provider," said Bolton. "What wasn't anticipated was if you have more than one gigabit provider, then it keeps ticking into the next round. And so if both gigabit providers or multiple gigabit providers dropped out the same round and Starlink was the only one standing, then they got the award."
As a result, he said, there were a number of areas where multiple gigabit providers "knocked each other off" allowing SpaceX to win in the following round.
"That's really unfortunate for those communities that had so many providers who were ready to build out gigabit services yet then they get relegated to LEO satellite," said Bolton, noting that 85% of non-gigabit awards went to Starlink.
How unfortunate it is still remains to be seen, and so far data on Starlink's service is somewhat inconclusive.
In a blog today, Ookla released new speed test data for Starlink, revealing some inconsistencies. In surveying Q1 2021 speeds for beta users, Ookla found that "Starlink speeds are sometimes a vast improvement, sometimes not," with median download speeds ranging from 40.36 Mbit/s to 93.09 Mbit/s.
"These represented everything from a dramatic improvement over other fixed broadband providers (545.6% faster in Tehama County, California) to a disappointment (67.9% slower in Clay County, Missouri)," writes Isla Mcketta for Ookla.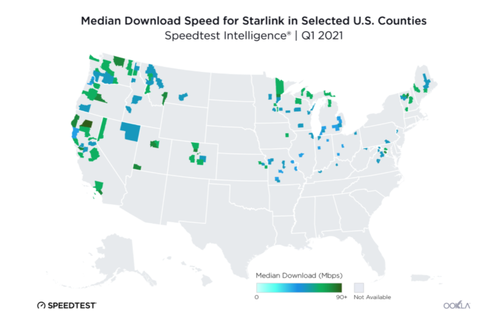 Further, while Starlink intends to "radically decrease latency in rural areas," Ookla found it's often "much higher" and was higher in all but one of the US counties surveyed.
That said, Ookla still concludes that Starlink met the minimum standard set by the FCC to participate in the RDOF auction and that it may be the right solution for rural areas.
"In both the U.S. and Canada, Starlink provided competitive or better service at the minimum (25/3/100) tier. In the U.S., 86.7% of Starlink users met this threshold, compared with 83.2% of those on all other fixed broadband providers," says the Ookla blog.
"Given this data, it's safe to say Starlink could be a cost-effective solution that dramatically improves rural broadband access without having to lay thousands of miles of fiber."
Related posts:
— Nicole Ferraro, contributing editor and host of "The Divide" and "What's the Story?" Light Reading