Over 2.3 million US households have signed up for the FCC's $3.2 billion Emergency Broadband Benefit program (EBB) to receive up to $50 monthly discounts on broadband service, according to data released by the agency.
The program is entering its fourth full enrollment week, and it received the most signups during the week of May 17, at 1.16 million.
In a statement, the FCC also updated the number of participating providers to over 1,000, and it provided a breakdown of enrollment by state and territory.
"I am thrilled to see that the great need for affordable broadband support is being met with over 2 million households enrolled in three short weeks. I've also said we need good data to know how the program is progressing and to inform any long-term efforts to address broadband affordability. This information is now available to the public as we always intended," said FCC Acting Chairwoman Jessica Rosenworcel.
Information on the program is being maintained by the Universal Service Administrative Company (USAC), and it includes overall and state-level enrollment data, to be updated weekly. USAC's dashboard will also track claimed and remaining funds, to be updated monthly, "on or around the 22nd of each month" (not yet recorded in the available data).
According to the dashboard, California, Ohio and Texas lead signups by state, with 219,675, 146,990 and 134,705 enrollments, respectively.
The updated subsidy enrollment numbers follow recent survey data released by Pew Research Center showing that 15% of US broadband households had trouble paying for their Internet service throughout the pandemic, including 34% of low-income home broadband users.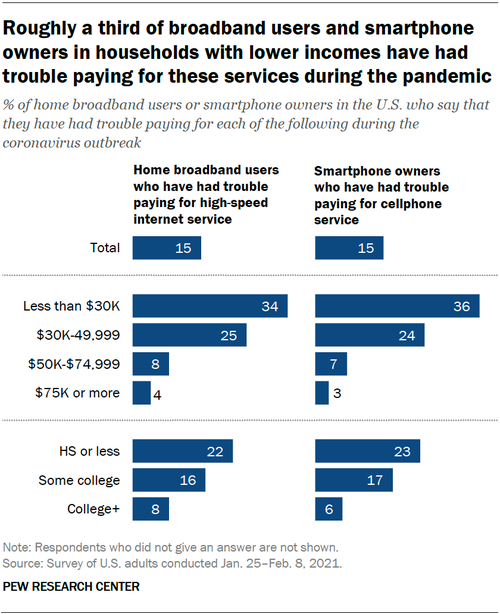 With the Emergency Broadband Benefit program scheduled to end when the funds run out, or six months after the Department of Health and Human Services declares an end to the COVID-19 health emergency, it is as yet unclear what the 2.3 million-and-counting enrolled households can expect their Internet bills to eventually look like. Some of the national service providers, including Verizon and AT&T, have been accused of using the EBB enrollment period to upsell subscribers into higher-priced plans.
Meanwhile, stakeholders from advocacy groups like the National Urban League and others have called on Congress to make EBB, or a similar benefit, permanent beyond the COVID-19 pandemic.
Currently, the fate of US broadband overall rests with Congress, with President Biden offering to concede to Senate Republicans on a $65 billion bill instead of the $100 billion originally proposed, and negotiations on infrastructure overall still ongoing.
However, in a separate move signaling its commitment to tackling the digital divide, the White House last week hired former FCC attorney Lisa Hone to be the administration's point person on broadband deployment. According Axios, Hone is now senior adviser for broadband and technology policy, reporting to NEC Deputy Director Bharat Ramamurti, where her primary focus is ensuring broadband funding allocated through the American Rescue Plan is "spent appropriately."
Related posts:
— Nicole Ferraro, contributing editor and host of "The Divide" and "What's the Story?" Light Reading