As the US gears up to (hopefully) pass infrastructure legislation to infuse cash into building out universal broadband, one of the hiccups in that plan is the country's ongoing failure to accurately quantify its digital divide.
While the Federal Communications Commission (FCC) estimates that 14.5 million Americans lack access to high-speed Internet, that number has been estimated by firms like BroadbandNow and others to be at least 28 million people short. Indeed, the FCC is well aware of its own data issue and under Acting Chairwoman Jessica Rosenworcel is embarking on an effort to revamp broadband mapping, which has historically relied on Form 477 data submitted by ISPs.
In addition to soliciting public feedback and encouraging use of the FCC's speed test app, one part of the federal effort to fix US broadband mapping will involve outside partnerships. To that end, the agency recently issued a request for proposals (RFP) for a Broadband Serviceable Location Fabric – or "a common dataset of all locations in the United States where fixed broadband internet access service can be installed," as described by Rosenworcel.
One company answering that call is LightBox: a commercial real estate information and technology platform. According to Eric Frank, founder and CEO, LightBox has the necessary information to produce an accurate broadband map of the US that checks the boxes the FCC is looking for, including providing open data.
"It seems to me a lot of the conversation is around, 'we can't get a map.' I'm just here to tell the world you can get a map," Frank told Broadband World News.
Previously the president of Thomson Reuters, Frank created LightBox to address a lack of data-driven tools for commercial real estate stakeholders, including brokers, developers, investors, lenders, insurers, environmental consultants and others.
"I was like wow, there's a big divide here. There's a lot of fragmentation, there's no authority on data and it's really hard to make informed decisions using data," says Frank. "And I said, 'if there's not a Bloomberg for commercial real estate, I'm going to build it.'"
LightBox, which is backed by technology investment firms Silver Lake Partners and Battery Ventures, was formed through a series of acquisitions beginning in 2018. Acquired companies include EDR, a provider of environmental due diligence information; Real Capital Markets (RCM), a global marketplace for commercial real estate; Digital Map Products (DMP), a location intelligence and mapping platform; and others.
As a result, LightBox provides the commercial real estate industry with geospatial analysis of "hundreds of layers of information" on everything from the "soil all the way to the sky," says Frank.
Mapping Georgia
The realization that LightBox possesses the data necessary to address the country's broadband mapping problem arose when it got a call from Georgia's state broadband authorities, seeking assistance with their own mapping effort. The state needed information on the number of serviceable locations, what types of buildings they are, etc.
Working with the Georgia Technology Authority, which coordinated creation of the state's map as part of the Georgia Broadband Deployment Initiative, LightBox was able to help identify 400,000 more unserved areas than estimated by the FCC. Specifically, the findings uncovered:
255,067 unserved locations that FCC considers served
507,341 total unserved locations
12,316 unserved census blocks that FCC considers served
50,728 total unserved census blocks
In addition to looking at what's served and unserved, LightBox also analyzed available speeds, ISPs per census block and household income to assess service affordability. The data showed that the median served household earns nearly $10,000 more annually than the median unserved household, and that areas with less competition have lower speeds.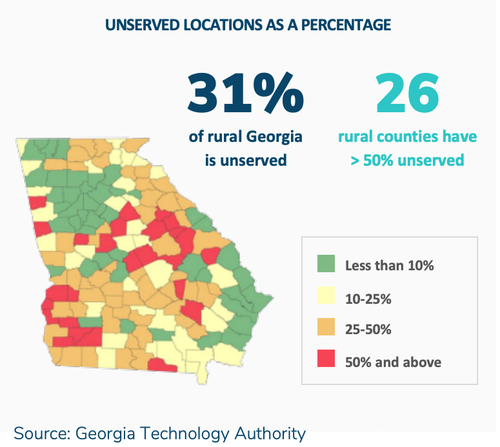 "Potential broadband infrastructure investors – both public and private – need critical information. They have to know how many served and unserved locations there are and where they are," said Bill Price, IT strategist at the Georgia Technology Authority, in an email to Broadband World News. "That's exactly what we sought to provide with the broadband data and maps we developed. Accuracy and specificity in the state's location data and maps form the foundation for all further analysis, helping to build investors' confidence and mitigate risk."
"Through our partnership with LightBox, we gained address and parcel location data to develop the broadband location fabric of the more than five million residential, business and government locations in the state. Integrating broadband service availability data from more than 44 service providers, we were able to create the final broadband availability data and maps, which show precisely the addresses that are served and unserved," said Price.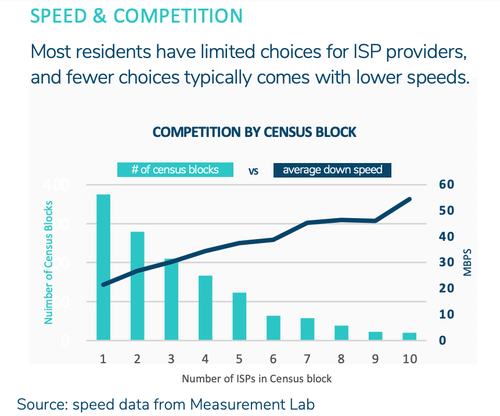 In a new report from local broadband advocacy group Next Century Cities, demonstrating contradictions in broadband mapping across the US, Georgia's state broadband map produced with LightBox is described as "one of the most granular state maps in the country." Still, the group identifies one shortcoming: "Neither state nor federal mapping shows the number of residents who do not have a home broadband subscription," writes Next Century Cities, whereas data from Microsoft shows "5.2 million people in Georgia do not use the Internet at broadband speeds," it says.
Following its work in Georgia, LightBox is now promoting its LightBox Address Fabric (LBAF) data solution, containing 240 million spatially located United States addresses, as capable of delivering the broadband map the FCC is looking for to adequately define and ultimately end the digital divide in the US.
With RFPs due to the agency by July 1, LightBox's Frank believes his company has a good shot at landing the federal contract.
"I think we're the best by far," says Frank. "Everybody else is talking about, 'I've got to go get this data and that data, the other data, and you've got to bring it all together...' We have the data, we can do the matching and we can do the analytics."
Related posts:
— Nicole Ferraro, contributing editor and host of "The Divide" and "What's the Story?" Light Reading