A new tool released this week from Pew Charitable Trusts gives a breakdown of state-by-state strategies on improving access to broadband across the US.
Specifically, Pew offers a look at which states have established a centralized broadband office, agency, task force, broadband fund, overall broadband goal or a local map to determine broadband availability.
The data shows that more than half of states have established dedicated broadband funds. In total, 15 states checked all boxes for having a fund, office, agency and task force, including California, Colorado, Connecticut, Illinois, Kansas, Maine, Maryland, Massachusetts, Minnesota, New Mexico, North Carolina, Oregon, Virginia, West Virginia and Wisconsin.
The only state to have absolutely no broadband office, agency, fund or task force is Mississippi.
Perhaps relatedly, according to BroadbandNow, Mississippi is among the top ten worst states in the nation when it comes to broadband access, ranked 42nd.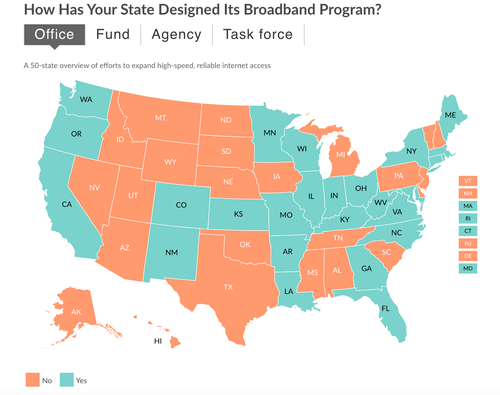 Give us money
This data from Pew comes as states are preparing – and bracing – for what's to come from a federal broadband infrastructure bill.
While there are outliers like Mississippi, states in general have been working to close the digital divide in their own communities for years. Pew Charitable Trusts started tracking this progress a few years ago, emphasizing successes and opportunities at the state level, working to influence policy and giving states the opportunity to learn from each other.
On a panel last week hosted by Pew, broadband officials and elected representatives from the states of Colorado, Virginia and West Virginia discussed some of their own successes thus far and offered a few notes of caution for Congress as legislators move to finalize legislation. Specifically, they warned against imposing unnecessary roadblocks and burdens for states, and they urged legislators to plan for the future in terms of speed and technology.
Speaking to ongoing negotiations in Congress over how and where federal funding for broadband can be used, West Virginia State Delegate Daniel Linville said that it would be "a significant problem" if municipalities can't spend it in areas where there is already a provider offering service of 25/3 Mbit/s.
"I challenge you to find very many communities throughout the entire country where we don't have at least one provider who is claiming to provide 25/3 service," he said.
Further, he rejected the notion that rural areas like West Virginia don't need better than 25/3 Mbit/s.
"It really bothers me seeing the discussion that certain rural areas don't need these speeds," said Del. Linville. "Perhaps we don't need the same capacity because there's fewer people there. But capacity is different than speed...
"You still need that fiber, and you still need that speed," he said. "So I just think that we need to make sure that we're investing in the networks of the future because I would really prefer not to have to have this fight again."
In addition to increasing minimum speeds, state leaders also urged Congress to leave as much as possible to the states themselves. Dr. Tamarah Holmes, director of Virginia's state broadband office, said that state programs have been three times more efficient than federal programs.
Teresa Ferguson, director of federal broadband engagement for Colorado's Broadband Office, echoed that sentiment, suggesting that the role of the federal government should be to disperse money and create a framework but otherwise leave the rest to the states.
"Give us the money. The bottom line, the states can't print enough money to be able to fix this infrastructure problem ourselves," Ferguson said. "Let us fill in the details. We know how to do this."
Related posts:
— Nicole Ferraro, contributing editor and host of "The Divide" and "What's the Story?" Light Reading