The Divide: New map shows 60M Americans lack Internet
On this episode, we hear from Eric Frank, CEO of LightBox, a real estate information and technology platform, on the company's new nationwide Internet connectivity map. While the FCC's most recent estimate shows 14.5 million Americans lacking Internet access, LightBox today puts that number at a much larger 60 million, or one in six Americans.
LightBox was able to produce its map by placing approximately 2 billion Wi-Fi access points on top of the company's national Broadband Serviceable Location Fabric: a dataset of geospatial info, addresses, occupancy classifications, and number of units within structures across the US.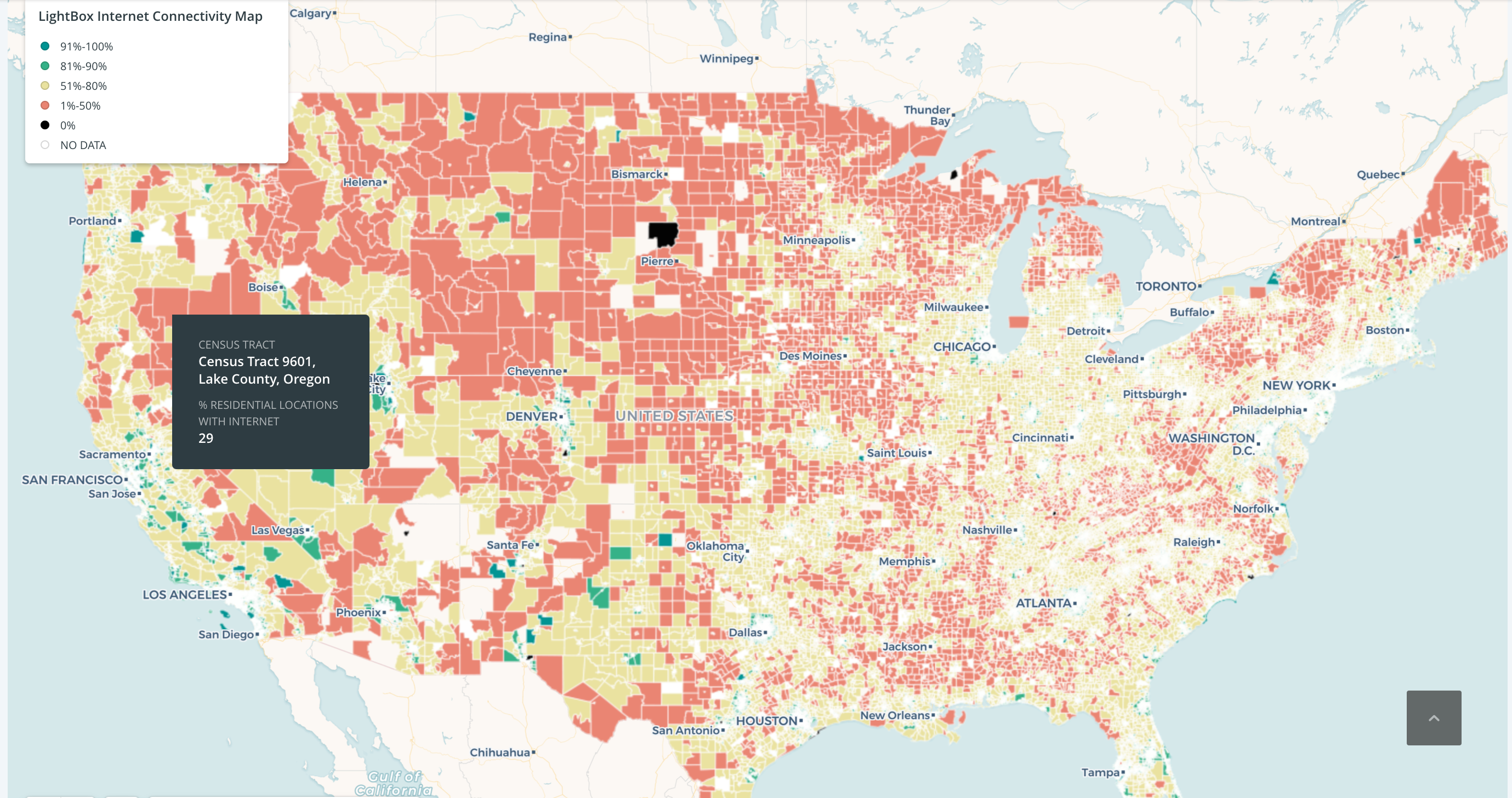 Frank first spoke to Broadband World News in June about LightBox's work with the state of Georgia to produce a map showing 400,000 more locations lacking access than the FCC estimated. Now the company hopes its national map will allow it to work directly with the federal agency and other states on solving the digital divide.
We discuss the various data sources that went into producing the nationwide connectivity map, why it focuses on Internet connectivity instead of serviceability, and what more it reveals about the larger digital divide in the country.
Related episodes:
— Nicole Ferraro, contributing editor and host of "The Divide" and "What's the Story?" Light Reading
Here's where you can find episode links for 'The Divide,' Light Reading's podcast series featuring conversations with broadband providers and policymakers working to close the digital divide.
As we have for the past two years, Light Reading will present our Cable Next-Gen Europe conference as a free digital symposium on June 21.
Charter has sparked RDOF work in all 24 states where it won bids. The cable op booked about $19 million in RDOF revenues in Q1, and expects to have about $9 million per month come in over the next ten years.
As we have for the past two years, Light Reading will stage the Cable Next-Gen Technologies & Strategies conference as a free digital event over two half-days in mid-March.
Launch of 2-Gig and 5-Gig FTTP tiers in 70-plus markets puts more pressure on cable ops to enhance their existing DOCSIS 3.1 network or accelerate their upgrade activity centered on the new DOCSIS 4.0 specs.
Thursday, August 4, 2022
11:00 a.m. New York / 4:00 p.m. London
The digital divide in North America is leaving millions without adequate broadband. Incumbents operate in "islands" of connectivity, serving densely populated areas and, at a national scale, perpetuating the digital divide in the gaps in between their service footprints. Regional ISPs have a clear role in closing that gap.
These regional ISPs operate in a highly fragmented landscape, including smaller wireless and FTTH incumbents, satellite ISPs, electric co-ops, tribal communities, and municipalities in public/private partnerships. These regional ISPs face the same cyber threats and operational challenges as their Tier 1 counterparts, but with far fewer resources and revenue-generating population density. As a result, many regional ISPs have developed highly innovated business models for access and core technology, partnerships, financing and services.
The discussion will cover:
Three ISPs that have taken an innovative approach to their business, as detailed in a recent STL Partners report
Why regional ISPs need to double down on core security basics such as DDoS protection
How ISPs have created new revenue by offering managed services
Core network capabilities required for IPv4-IPv6 management