This week on the podcast, we hear from Dr. Amy Sheon, a digital health equity consultant and the president of Public Health Innovators, which provides digital health equity strategy support to healthcare systems, governments and advocacy groups.
We discuss the impact of the digital divide and digital redlining on public health, how health policy and broadband policy need to intersect in order to address this problem and what lessons have been learned thus far about digital equity and public health throughout the global pandemic.
As Dr. Sheon explains, health disparities tend to happen at a hyper-local level. "Digital redlining, of course, is happening in the very neighborhoods, where everything else is a poor determinant of health. So the digital divide compounds health disparities," she said – an issue she explores in her paper "Digital inclusion as a social determinant of health."
We also discuss the need for "digital health coaches" to help patients resolve gaps around telehealth: a need that became more apparent during the pandemic.
Indeed, new research from J.D. Power this week reveals various barriers to telehealth for patients, with the most frequently cited issues including limited services (24%), lack of awareness of costs (15%) and confusing technology requirements (15%).
Identifying those digital gaps has to be part of the healthcare process, says Sheon, in coordination with local advocacy groups, as represented in her visual model below.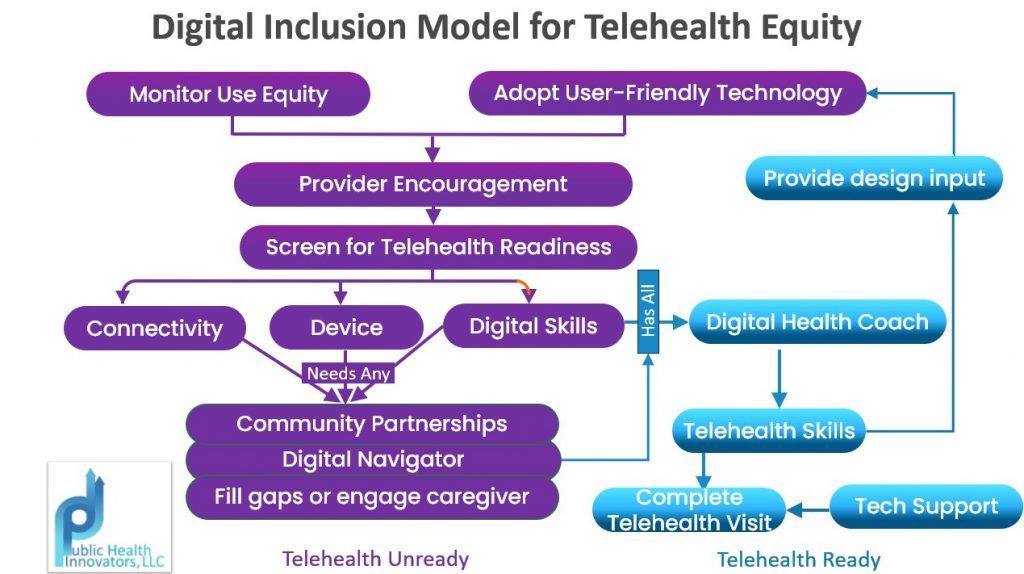 "Once a patient has been identified as having a gap – and referred out to that community organization, gotten a device, gotten broadband, gotten basic digital skills – then this community health worker/digital health coach could help the patient actually use telehealth, the portal, a remote monitor, and the like."
Related episodes:
— Nicole Ferraro, contributing editor and host of "The Divide" and "What's the Story?" Light Reading