In a report released today, based on consumer survey data, the Fiber Broadband Association (FBA) makes the case that people need symmetrical Internet speeds at home.
The report, conducted by market research firm RVA (which has performed FBA's consumer broadband studies since 2006), surveyed 3,200 US consumers in May 2021; as well as 1,100 Canadian consumers.
Pointing to a series of data, including home broadband satisfaction, remote work trends and upload activities, the report argues that fiber is the superior broadband technology, and that consumers need home broadband speeds of at least 100/100 Mbit/s to remain productive.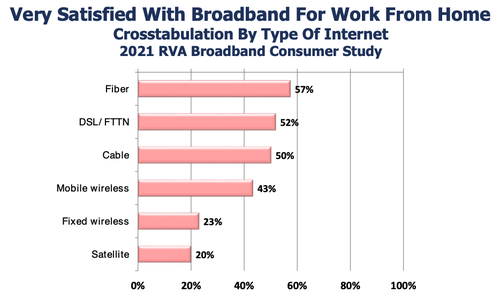 While it is unsurprising for a study commissioned by FBA to be pro fiber and fiber-enabled speeds, it also hints at a strategy for fiber providers as federal and state agencies prepare to disperse billions of dollars in funds for new broadband networks. The study's publication comes a day after President Biden signed an infrastructure package with $65 billion for broadband. While FBA and its members had lobbied Congress for the bill to define broadband as at least 100/100 Mbit/s, if not 1 Gbit/s, legislators ultimately settled on a definition of 100/20 Mbit/s, which was favored by wireless and cable providers.
Indeed, the report pushes back on what it calls "the anticipated counter argument" that most households don't use 100Mbit/s upload capacity, saying this is a "very incomplete and misleading picture" that doesn't consider "power users" or future applications like VR.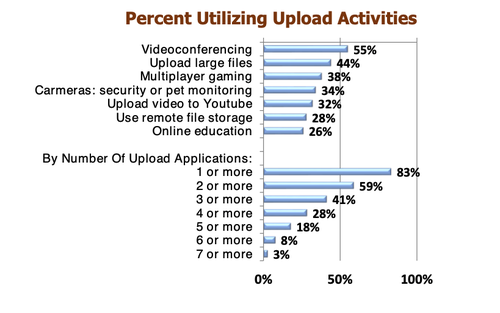 On emerging applications, the report suggests that "even early AR/VR applications require very high symmetrical bandwidth. This will only increase in the future." [Ed. note: Which may be so if we all end up in the "metaverse."]
Fiber disparities
Another notable takeaway from the report is who does and does not have a fiber connection, with income being the biggest determinant: 26% of respondents making over $75,000 per year used fiber versus 14% of those making $39,999 or less. Broken down by race, African Americans were least likely to have FTTH, at 16%.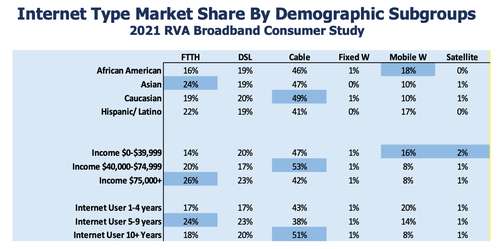 On the bang-for-your-buck front, the report argues that while fiber broadband subscriptions are among the most expensive for consumers ($73.04 on average), they also offer the lowest cost per Mbit/s at $0.66, compared to fixed wireless at $3.93, and satellite at $6.03.
At the end of the day, making the case for gigabit speeds and lobbying for subsidies in a pool that includes wireless and satellite isn't the only hurdle for fiber providers. The industry may also have a marketing problem, courtesy of years of 5G ads targeted at consumers. While 39% of Internet users surveyed perceived 5G fixed wireless to have the highest bandwidth, only 27% held that perception of fiber.
Related posts:
— Nicole Ferraro, site editor, Broadband World News; senior editor, global broadband coverage, Light Reading. Host of "The Divide" on the Light Reading Podcast