Virgin Media O2 (VMO2) announced today that it has completed work to upgrade its entire network to gigabit speeds.
The operator shared the news in a press release after switching gigabit on for its final 1.1 million homes. With that batch complete, VMO2 can now say it offers gigabit speeds (1,130Mbit/s download, on average) for all 15.5 million homes it passes in the UK and is the only major provider to do so.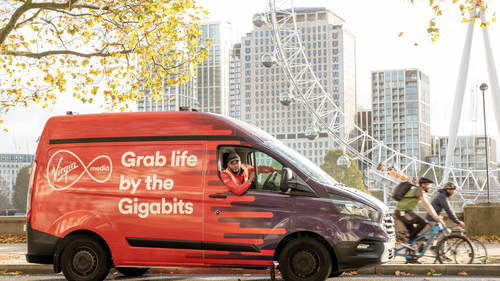 In its statement, Virgin trumpeted its ability to complete this upgrade "in a little over two years without the need for lengthy construction work." That's because the company used DOCSIS 3.1 on its existing cable, rather than having to dig up roads to lay new infrastructure.
Lengthy construction work is still ahead, though: Virgin Media O2 has also committed to upgrade its network to full fiber – capable of 10Gbit/s symmetrical speeds – by 2028.
"As the country's largest gigabit provider by far, we're the driving force behind widespread gigabit availability four years ahead of the Government's target," Lutz Schüler, CEO of VMO2, said in a press statement, referring to the UK government's goal to deliver gigabit speeds to 85% of the country by the end of 2025. "Having reached this major milestone in just two years, we're doubling down on our mission to upgrade the UK by continuing to innovate and invest in our network to support the technologies of tomorrow," he said.
Virgin Media O2 is a joint venture between Liberty Global and Telefonica, formed after Virgin's merger with mobile company O2 earlier this year.
Virgin is hardly the only UK provider in the speed race. CityFibre, a private-equity backed alternative infrastructure provider, is in the process of building fiber to 8 million premises by 2025. BT plans to cover 25 million of the households with its full-fiber network by 2026, including roughly 6 million in the hardest-to-serve parts of the country. As Mike Fries, CEO of VMO2 parent company Liberty Global, told investors last month, BT was on track to overbuild 25% of Virgin's footprint by the end of this year.
None of that building, and overbuilding, seems likely to slow: In pursuit of its goal to reach at least 85% of the country with gigabit-speed broadband by 2025 (and to get to 100% "as soon as possible"), the UK government announced a £5 billion (US$6.9 billion) effort this year called Project Gigabit to build next-generation gigabit broadband to areas which it said "would otherwise have been left behind in broadband companies' rollout plans."
Related posts:
— Nicole Ferraro, site editor, Broadband World News; senior editor, global broadband coverage, Light Reading. Host, "The Divide" on the Light Reading Podcast