Before states can close their digital divides, they need accurate data about where broadband access gaps exist and why.
While the FCC works on meeting its requirement to redo the country's broadband map – and with billions up for grabs through federal grants – several states have taken the initiative to produce their own maps.
One of the latest is New York, which has hired local firm ECC Technologies to conduct a broadband mapping and documentation project. The project satisfies a mandate of the state's Comprehensive Broadband Connectivity Act, passed in 2020, to study the availability, reliability and cost of broadband in New York.
That bill hit a couple of initial delays: Former Governor Andrew Cuomo had killed it with a pocket veto to halt its implementation until the state passed its budget in the spring of 2021... which was soon followed by Cuomo's resignation over sexual harassment allegations in the summer.
Under the new administration, Governor Kathy Hochul announced in September that the project was proceeding with Rochester, New York-based ECC Technologies, which would produce and publish a detailed Internet access map by May 2022.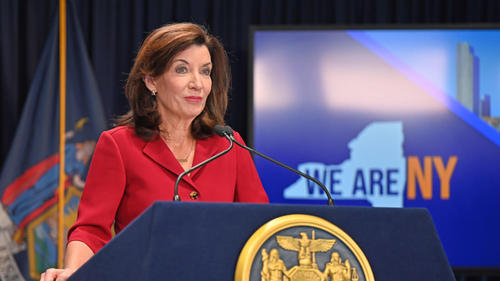 According to Joe Starks, president of ECC, the work his team does to identify infrastructure across the state is essentially two-fold: going out and taking inventory of infrastructure at the street level, and gathering input through ECC's Broadband Availability and Adoption Tool (BAAT).
"We don't take the FCC maps. We don't take anybody's word for it," he said.
Instead, ECC has roughly ten individuals out in the field documenting broadband infrastructure at the address level, which then gets overlaid on a GIS database. "We put them in vehicles and they drive the roads and then they document, to the extent possible, what they see," he said.
According to Starks, it's more efficient to conduct this process manually. "We've tried LiDAR. We've tried all the different technologies. And what we found is we spend more time trying to prove or disprove the accuracy of those than if we just put our people in the street," he said.
While the map will represent Internet access across the entire state, the work of physically documenting broadband infrastructure at street level is only happening in remote areas.
"The infrastructure studies that we're doing are not being done in cities, because we already know that the cities have infrastructure on most streets," said Starks. "Having said that, there's some areas in Brooklyn and Manhattan that are missing, but it would take us years and years and years to get that, so that's not part of this project."
To map those areas, ECC is relying on information submitted by ISPs – which are mandated by the state law to comply – and data from its BAAT campaign, running in all 62 New York counties. BAAT includes a speed test and a survey that Starks says allows people to "tell us a personal side of broadband" by answering questions on speed, usage and affordability.
Starks admits that getting community input on anything is no small feat. It's tougher, still, in a populous and diverse state like New York. "To get seven and a half million homes to respond to a survey is just monumental," he said. "If we do a county on its own, we usually get really good reception because they take ownership of it. This is a state project, and the locals don't exactly trust the state."
As such, ECC is conducting outreach to the counties, as well as the state's economic development groups, educators and other local institutions for help with promoting the survey. [Ed. note: If you're a New Yorker reading this, you can help by taking the speed test and survey here.]
While tough, getting that data from broadband consumers is crucial to the accuracy and outcome of the project. New York, like every other state, will be expected to submit a plan to the federal government next year for how it will use its share of broadband funds from the infrastructure package. That plan depends on maps like the one being produced by the ECC.
"We want to know what the culture of broadband is from the people, not from the carriers," said Starks. "You know, they say everything's great, but what we're finding is most folks are saying they can't get the broadband speeds that they desire."
Related posts:
— Nicole Ferraro, site editor, Broadband World News; senior editor, global broadband coverage, Light Reading. Host, "The Divide" on the Light Reading Podcast