With accelerating action around closing the digital divide, network migration and spectrum use for 5G, 2022 will be rife with regulatory activity that will impact the telecommunications market for years to come.
That's the message from analyst firm Omdia (owned by the same parent company as Light Reading), which says in a new report that service providers and regulators need to work together on forward-looking policies.
"As technology evolves, regulation will become more important than ever in the TMT industry," said Sarah McBride, senior analyst for regulation at Omdia.
Omdia points to several trends it says will be "at the heart of regulatory activity" next year, including spectrum licensing, fiber networks, the digital divide and – yes – 6G.
'Comprehensive digital strategy'
On the digital divide, Omdia says "governments should learn from the pandemic" and recognize "the need for these broadband services to be affordable to all."
To that end, the analysts say governments must define a "comprehensive national digital strategy that includes providing state-aid tools to improve broadband availability and affordability."
Such a strategy should go beyond deployment to "ensure citizens can use connectivity transformatively to bring about innovation and growth." Doing so will encourage more deployment and investment, writes Omdia.
However, to avoid too much government intervention, the report also stresses the need for cooperation by service providers.
"Experience shows that market-led development, not a reliance on government intervention, is the most effective model for effective allocation of resources. However, economic viability is lower in some rural and sparsely populated areas than in populous areas," writes Omdia.
As such, the analyst firm recommends that operators collaborate by sharing infrastructure to reduce deployment costs and create shared wireless networks to "remove the need for regulators to set ambitious coverage obligations as part of spectrum licenses or universal service obligations."
Speaking of spectrum...
According to Omdia's own tracker for 5G networks, more than 150 5G networks have been launched around the world to date, which the firm says continues to drive demand for more spectrum.
"5G will profoundly affect society because of its ultrafast speeds, low latency, and high reliability, which enable digital transformation and support new use cases," writes Omdia.
Thus, it says, regulators need to effectively manage spectrum allocation, "allowing access to the right amount of internationally harmonized spectrum (e.g., 700MHz, 3.6GHz, and 26GHz bands in the EU) in a timely manner to keep costs down."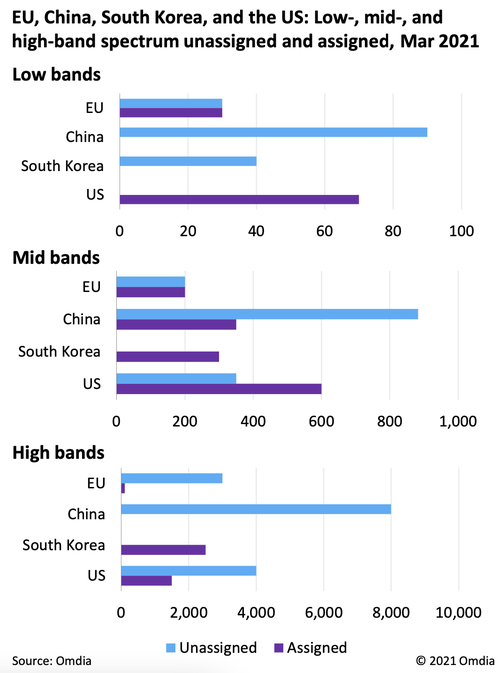 Beware 'the splinternet'
As operators continue to build out their 5G networks, Omdia tells policymakers it's important to plan ahead on 6G standards, given the role these networks will play in the digital economy and the danger posed by a lack of cohesion.
Specifically, the firm warns against further splintering the telecom and Internet ecosystem, or what it calls "the splinternet."
"It is especially important that regulators and policymakers prepare for future network generations by ensuring agreement is reached on 6G standards. A fragmentation of standards must be avoided to prevent any further separation of the telecoms and internet ecosystem, a 'splinternet'," writes Omdia.
Acknowledging that plans for 6G are in their infancy, Omdia further tells policymakers to begin identifying appropriate spectrum bands, though it notes that such plans "will need to be balanced with the need to release spectrum for 5G."
Navigating network migrations
Part of the rush to get high-speed Internet everywhere includes a migration to fiber, whether through new builds or upgrades of existing cable networks. Omdia writes that as operators migrate to fiber, policymakers should focus on promoting competition, pricing strategies and raising awareness amongst consumers about fiber access.
It further adds that regulators should include fiber access in wholesale obligations, "once sufficient fiber coverage is reached."
On the operator side, it's important to collaborate with regulators on network upgrade plans and give wholesale customers advance warning to avoid disruption.
"Operators need to give their wholesale customers a sufficient notice period when withdrawing copper networks. This includes providing formal notifications that outline the timeframes involved, the replacement products on offer, and the new price terms," writes Omdia.
Related posts:
— Nicole Ferraro, site editor, Broadband World News; senior editor, global broadband coverage, Light Reading. Host of "The Divide" on the Light Reading Podcast.