In 2017, after a strike and failed negotiations between their union and Spectrum, a group of cable engineers with Local 3 IBEW in New York decided to take their skills for deploying Internet service elsewhere.
Specifically, they took a business plan for a municipal cable system to the city. "They liked it, but no one moved on it," said Troy Walcott, president of People's Choice Communications (PCC).
That pushed them to their next idea: "Why don't we join together with the public and we can own the cable system?" said Walcott. Thus, in the summer of 2020 PCC – a worker-owned ISP – was born.
As PCC explains on its website, its networks are owned by the communities the company serves: "After we build out a network in your building, it transfers to cooperative ownership, so profits are returned to users. We are able to provide high-speed service in most cases for $10-20/month."
PCC's launch in 2020 coincided with the COVID-19 pandemic arriving in and overtaking New York, which placed a spotlight on the digital divide as kids were sent home, and to homeless shelters, without access to, or the means to afford, broadband for remote school.
On the plus side, in January 2020, just before the pandemic shut the city down, Mayor Bill de Blasio had released an Internet Master Plan: a $157 million commitment and roadmap to achieving universal broadband access in New York. In a press release announcing the plan, the mayor's office noted that 46% of New York City households living in poverty do not have broadband in the home, with the highest percentage of those (38%) in the Bronx.
NYC's Internet Master Plan is how PCC came to work as a subcontractor with BlocPower, one of the grant recipients selected by the city to help expand Internet service options for 600,000 underserved New Yorkers, including 200,000 New York City Housing Authority (NYCHA) residents.
BlocPower is a Brooklyn-based climate technology startup, backed by Kapor Capital, Andressen Horowitz and American Family Insurance Institute for Corporate and Social Impact. Since its founding in 2012, the company says it has retrofitted more than 1,200 buildings in disadvantaged communities in New York City.
"We turn buildings into Teslas," said Keith Kinch, co-founder and general manager of BlocPower. "We tear out fossil fuel systems – oil and gas – and put in electrical systems, solar ... to make buildings smarter and healthier."
The company also creates local jobs, and aims to bridge racial and economic divides, in the process: According to Kinch, BlocPower has trained over 1,000 New Yorkers on clean energy projects.
"There are many divides. There's a racial divide, economic, health and digital," said Kinch. "We thought about, how can we bridge that divide at the same time creating jobs locally?"
For the NYCHA project, Kinch said BlocPower's members worked alongside PCC to deploy a Wi-Fi mesh network. "People's Choice Communications installed the rooftop antennas and WiFi nodes on every floor, leveraging local NYC workers hired and trained through BlocPower's Pathways program, a workforce development initiative contracted by the NYC Mayor's Office of Criminal Justice," said a press release about the deployment.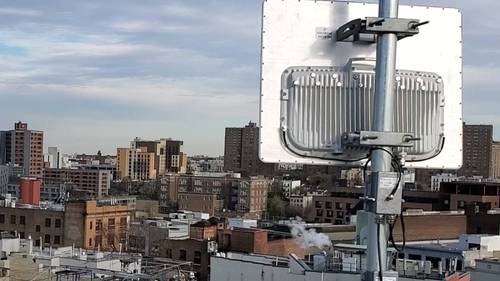 "We placed our members of our civilian climate corps with the People's Choice team to say, 'hey, here's your chance to do outside training and help install in your building'," said Kinch. "We have people that live in the building do the work."
BlocPower and PCC recently announced their first completed NYCHA deployment, connecting more than 2,500 Bronx residents.
Food or Wi-Fi?
For those residents, where a lack of broadband coincides with a series of other social, health and economic factors, that access could make a significant difference.
"For many people, unfortunately, it's, you know, do I buy extra food or do I pay for cable?" said Kinch. "In that particular area, you have one of the highest unemployment rates in the city, one of the highest COVID-19 infection rates in the city, one of the lowest COVID-19 vaccination rates in the city. And it's still one of the lowest rates in terms of economic opportunity in the city."
Fortunately, the work won't stop there. As part of their master plan commitment, BlocPower and PCC will deploy service to another three NYCHA developments next year, connecting a total of 10,000 residents.
Plus, PCC's Walcott says that – with additional federal government subsidies – they can continue providing broadband access for almost no cost.
"Especially now with the Emergency Broadband Benefit in place, we're able to help people who really need it and provide service at almost no cost to them," he said, adding that the forthcoming Affordable Connectivity Program will be a great help as well. Both programs are designed to help low-income residents pay for broadband.
"It just gives long-term stability to what we were already doing that we thought was going to be a short-term benefit," said Walcott.
Related posts:
— Nicole Ferraro, site editor, Broadband World News; senior editor, global broadband coverage, Light Reading. Host of "The Divide" on the Light Reading Podcast.