With a final vote of 60-31, Alan Davidson was confirmed by the US Senate on Tuesday to serve as assistant secretary of commerce for communications and information. In that position, Davidson now serves as chief of the National Telecommunications and Information Administration (NTIA), the federal agency advising the White House on telecom and broadband policy.
President Biden nominated Davidson for the position in late October 2021. Davidson was expected to be confirmed by year's end but a final Senate vote was met with delays and pushed to January.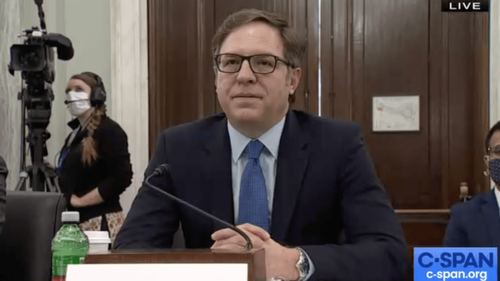 Davidson joins the NTIA following a career spanning the public and private sector, including serving most recently as VP of global policy, trust and security at the Mozilla Foundation. He also previously served as director of public policy for Google in the Americas.
During the Obama-Biden administration, Davidson was appointed as the first director of digital economy at the Department of Commerce and a senior advisor to the Secretary of Commerce.
Davidson's confirmation marks the first time the NTIA has had a leader since May 2019 when David Redl – appointed by former President Trump – resigned. President Biden appointed Evelyn Remaley as acting chief in January 2021. Remaley also serves at the NTIA as associate administrator for the office of policy analysis and development.
Funding frenzy
With the NTIA tasked with overseeing most of the broadband funding designated by the Biden administration's infrastructure law, Davidson has his work cut out for him.
In a statement cheering Davidson's confirmation on Tuesday, FCC Chairwoman Jessica Rosenworcel said "Among other things, I look forward to working together on spectrum policy that reflects our national priorities and offering support as NTIA prepares to distribute the largest broadband infrastructure investment in our nation's history."
On Friday, the NTIA announced that it is seeking public comment on policies and programs associated with the new state broadband grants. Specifically the agency is requesting input on "program design, policy issues, and implementation considerations" for the Broadband Equity, Access, and Deployment Program (BEAD), the Enabling Middle Mile Broadband Infrastructure Program and the State Digital Equity Planning Grant Program, which – all told – represent $48.2 billion of the $65 billion in broadband funds in the infrastructure law.
"We need to hear directly from the communities who will benefit from these programs so we can fund solutions that appropriately address their needs and meet the challenge before us," said US Commerce Secretary Gina Raimondo in a press release.
Comments will be posted publicly and are due by February 4, 2022. The agency said it will also host public virtual listening sessions on the grant programs in January and February.
Back in November, Secretary Raimondo called the $48.2 billion broadband grant programs a "massive undertaking" for the Department of Commerce but vowed that there would be "tremendous federal oversight" into how those funds are being spent in each state and territory.
Sohn... soon?
As far as tech and broadband policy go, the Senate is still considering key Biden nominees, including Alvaro Bedoya for Federal Trade Commissioner and Gigi Sohn for FCC Commissioner. Both have faced uphill battles with Senate Republicans.
In an op-ed today for the Salt Lake Tribune, Roger Timmerman, CEO of UTOPIA Fiber, called on the Senate to confirm Sohn, and called out the cable industry's lobbying efforts to squash her nomination.
"The cable industry is spending approximately $8 million a week on lobbying efforts to preserve its business model. Cable knows that if Gigi Sohn is appointed to the FCC, they'll need to be accountable to American consumers," wrote Timmerman, whose company UTOPIA Fiber was referenced by Sohn as a success story during her confirmation hearing.
"Sohn recognizes that Americans need choice in the broadband market," he added. "While her approach is not prescriptive, she won't take cues from cable to stifle successful taxpayer-owned broadband options like ours; she recognizes that competition – public or private – in the broadband market should be a national priority."
Related posts:
— Nicole Ferraro, site editor, Broadband World News; senior editor, global broadband coverage, Light Reading. Host of "The Divide" on the Light Reading Podcast.