Speaking on a webinar this morning hosted by the Fiber Broadband Association, Ernesto Falcon, senior legislative counsel at the Electronic Frontier Foundation (EFF) suggested US fiber stakeholders would do well to focus on the specific language of the Biden administration's broadband bill to make their case for a full-fiber future.
On its face the $65 billion broadband bill takes a tech-neutral approach. However, with subsidized networks required to deliver at least 100/20 Mbit/s, Falcon said it's the phrase "easily" scalable that matters most.
"The key part here is Congress is clearly understanding that yes, build 100 down, 20 up. But that's the minimum," he said. "What that infrastructure should do is meet that today and then be on its own capable of reaching further and further and further."
"There's little reason to think that Congress envisions – specifically when it says 'easily scales speeds over time' – that they want 100/20 to be the maximum threshold, or even anywhere close to what the maximum threshold of this infrastructure can do," he added.
Falcon is referring to one section of legal language in the $1.2 trillion Infrastructure Investment and Jobs Act (IIJA) that defines a grant-eligible "priority broadband project" as a project designed to "ensure that the network built by the project can easily scale speeds over time to meet the evolving connectivity needs of households and businesses; and support the deployment of 5G, successor wireless technologies, and other advanced services."
And while any network can technically be scalable, it's the addition of the word "easily" that suggests the law's vision for broadband "leans pretty heavily on fiber," said Falcon.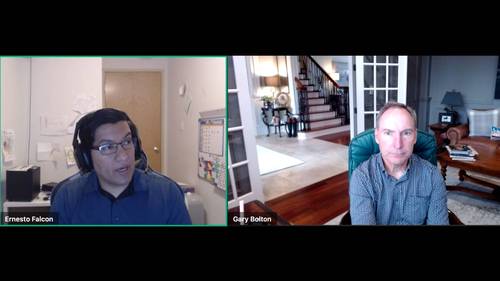 He is not alone in combing the broadband legislation to make the case for how best to spend federal funds. Over the coming weeks, industry stakeholders will have the opportunity to help shape rule-making around the NTIA's grant programs, with the agency calling for public comments by February 4, 2022. Both Falcon and FBA's CEO Gary Bolton confirmed they are preparing comments.
"An awful lot of politics are going to get involved in the implementation of these programs," said Falcon. "And then there's objective engineering realities about what the statute says and what can meet those metrics."
Getting the funds to go to the right technology is one thing. Stretching them out is another. To that end, Falcon pointed to an EFF study from October 2021 that found a wholesale, open access approach would reach more people at a lower-subsidy cost.
According to the study, conducted for EFF by broadband research firm Diffraction Analyses, a wholesale network model could cover "close to 80 percent of the U.S. with fiber to the premises before government subsidies would even be necessary, whereas the existing broadband carrier model is expected to only 50 percent profitably."
Not every fiber fan is necessarily enthusiastic about the open access model. Shirley Bloomfield, CEO of NTCA – The Rural Broadband Association, told Broadband World News last week that while her organization favors fiber for rural communities, open access networks are not as economically feasible in less-populated areas where it takes a great deal of federal support simply to build and sustain one network.
"The one thing we've got to be mindful of, particularly with federal funding, is to not overbuild," said Bloomfield. "When you, again, can't build a network without federal support, to put federal support to compete against federal support just becomes a losing proposition."
Still, she conceded, regardless of where anyone lands on this and other broadband arguments, connecting the rural US will take every tool available. "You're just gonna need a little bit of everything to make it work."
Related posts:
— Nicole Ferraro, site editor, Broadband World News; senior editor, global broadband coverage, Light Reading. Host of "The Divide" on the Light Reading Podcast.