The FCC voted unanimously on Thursday to adopt a notice of proposed rulemaking to require broadband providers to display easy-to-understand labels that allow consumers to comparison shop.
The new rules would require Internet service providers to display labels with prices (including introductory rates), speeds, data allowances, network management practices and "other critical broadband service information," said the agency in today's announcement.
The FCC is required by the broadband provision in the Biden administration's infrastructure law to adopt regulations for a consumer-friendly broadband label within a year of that law's passing.
With today's vote, the Commission will now seek public comments on voluntary labels previously approved in a 2016 public notice, but then eliminated under former FCC Chairman Ajit Pai.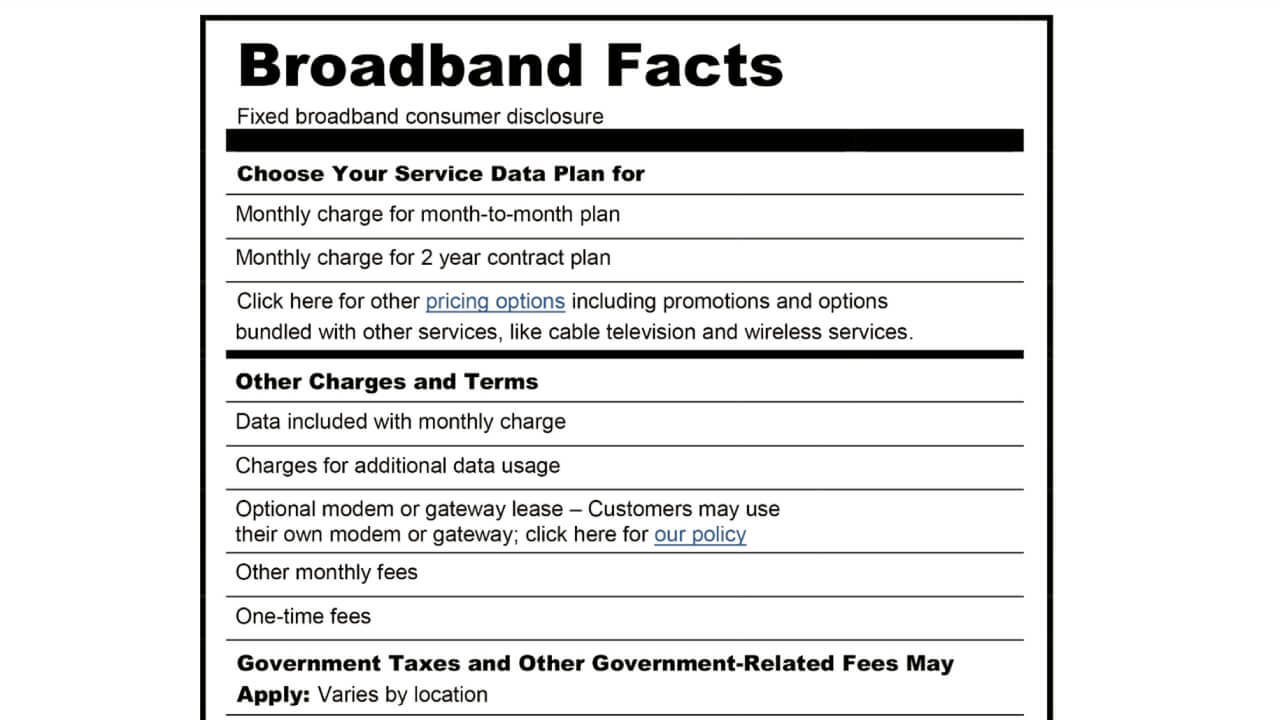 "We find many of those additional reporting obligations significantly increased the burdens imposed on ISPs without providing countervailing benefits to consumers or the Commission," Pai wrote at the time.
The current chair disagrees. In a statement, FCC Chairwoman Jessica Rosenworcel said these labels are necessary because broadband is an essential service.
"If you walk into any grocery store and pull boxes of cereal from the shelves, you can easily compare calories and carbohydrates. That's because they have a common nutrition label. It's black and white, simple to read, and easy to understand. It helps consumers make good choices," she said. "I think the Federal Communications Commission needs to do the same with broadband. That's because it is now an essential service – for everyone, everywhere."
The real problem is Big Tech
While all Commissioners voted in favor of the nutrition label proposal, Republican Commissioner Brendan Carr also used the occasion to highlight a lack of transparency from Big Tech companies.
"While I am open to ways we can improve the transparency and disclosure rules that apply to broadband providers, I continue to believe that the real black box is in a different portion of the Internet ecosystem – Big Tech. Big Tech companies provide far less transparency than broadband providers regarding their practices and commercial terms," said Carr in a statement.
"The transparency rule that currently applies to broadband providers or even the nutrition label approach we propose here would be a good place to start when it comes to bringing much needed and long-overdue transparency to Big Tech."
Following today's vote, the FCC said in a press release that it will hold a public comment period for input on "how consumers evaluate broadband service plans and whether the 2016 labels will assist consumers with the purchase process; whether the 2016 labels should be updated in terms of content and format; and whether the Commission should provide new guidance about where broadband providers must display such labels."
Related posts:
— Nicole Ferraro, site editor, Broadband World News; senior editor, global broadband coverage, Light Reading. Host of "The Divide" on the Light Reading Podcast.
(Homepage image source: B Christopher/Alamy Stock Photo)