The Federal Communications Commission (FCC) last week announced a new round of funding and a third application window for the Emergency Connectivity Fund (ECF) to help schools and libraries deliver broadband.
The $7.17 billion Emergency Connectivity Fund was established as part of the American Rescue Plan Act of 2021 (ARP) to assist schools and libraries during the COVID-19 "emergency period." Thus far, the FCC has committed roughly $4.76 billion of the available funding. According to the agency, that funding covers 10 million connected devices and 5 million broadband connections for 12.5 million students.
The most recent funding round committed $68 million to 140 schools and 25 libraries in Alaska, Arizona, California, District of Columbia, Florida, Georgia, Indiana, Massachusetts, New Jersey, Northern Mariana Islands, Oregon and Puerto Rico.
There has been significant demand for the program. According to the FCC, it received over $6.4 billion in funding requests during the first and second application filing windows. A Commission map shows where the highest demand for funding has been across the country.
The Commission estimates there will be at least $1 billion available for the third application window. According to an FCC spokesperson, that estimate is based on existing commitments, as well as "expected adjustments resulting from application cancellations, administrative expenses, and reductions based on funding caps."
The spokesperson said it's unclear whether that will be enough funding to satisfy demand, adding: "If demand is greater than available funds, the Commission will prioritize award of support based on an applicant's E-Rate discount rate (which is based on the number of students eligible for the National School Lunch Program), adjusted to provide a 5% bump for rural schools and libraries."
Libraries crucial for broadband access
The FCC's new round of funding and third application window for ECF comes alongside a recent study from the American Library Association (ALA) demonstrating the crucial role libraries have played in delivering broadband during the COVID-19 pandemic.
"As the need for internet connectivity skyrocketed millions of Americans lost access as the institutions they relied on for connectivity, including library buildings, closed due to health concerns," says the report. "This left a substantial gap in connectivity that needed to be addressed immediately."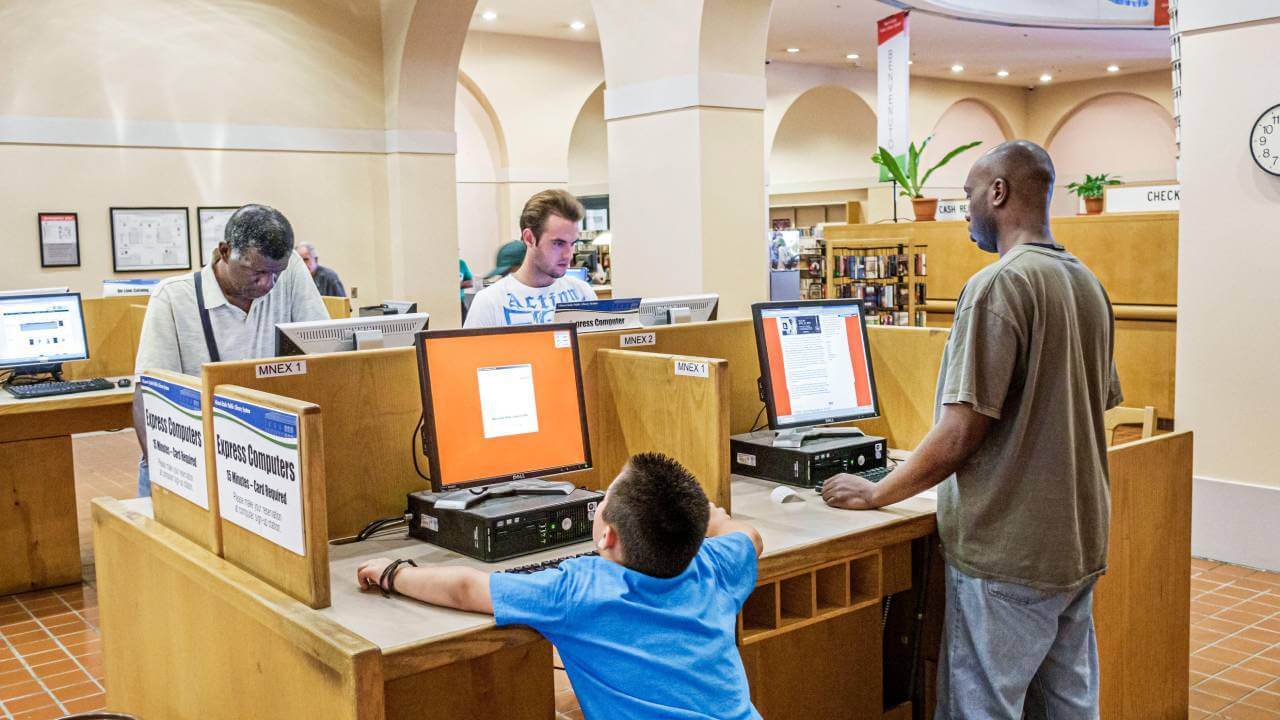 As the report points out, libraries face the same digital divide issues as their broader communities. While libraries "see a clear need for programs like hotspot lending locally," many can't afford them due to tight budgets, and others are located in communities that lack broadband infrastructure needed to power the Wi-Fi hotspots.
"Thus, the ability of libraries to aid in connectivity is tied to the availability of library funding and broadband infrastructure across the country," says the report.
Statistics show libraries recognize their crucial role as broadband providers in their communities. In a March 2020 survey by the Public Library Association, 81% of libraries surveyed reported that they already had a policy of leaving Wi-Fi on after hours prior to COVID-19, and 12% of libraries had expanded or added this service in response to the pandemic.
The ALA report also highlights specific ways libraries across the country have sought to extend broadband access to their broader communities. In Georgia, for example, the Twin Lakes Library system used TV white space to extend connectivity. In Boone County, Kentucky, the Florence Branch Library ran a wide area mesh Wi-Fi network as a pilot initiative, reaching 200 households in an underserved community. And in the remote town of Canaan, Vermont, a library was able to extend Wi-Fi to a park with help from a Microsoft grant.
Another library in Arkansas – the Malvern-Hot Spring County Library – found a creative way to tackle the region's digital divide during the pandemic by distributing its own hotspots to local businesses throughout the county, where 35% of the population lacks connectivity access. According to the study, "The library plans to keep these community hotspots active beyond the crisis, as 'people have begun to rely on these Wi-Fi access points in our most rural areas.'"
ALA concludes that improving local libraries' broadband access won't just meet immediate needs but is necessary for their communities' economic recovery – and thus requires continued investment.
"While emergency funding has been a needed boost, long-term investment in broadband is also needed as the ability of libraries to provide connectivity is tied to the availability of broadband infrastructure and funding for digital inclusion programs," says the report.
Related posts:
— Nicole Ferraro, site editor, Broadband World News; senior editor, global broadband coverage, Light Reading. Host of "The Divide" on the Light Reading Podcast.