Better Broadband Gets Better Scores for USDA Funding

The USDA is encouraging network operators to deploy symmetric broadband more quickly than its counterparts in the Federal Communications Commission.
When operators apply for funding or grants, those deploying infrastructure with symmetric speeds of 100 Mbit/s or higher get 100 out of 100 points in that category, compared with a much lower score for those meeting the FCC's minimal 25 Mbit/s upload speeds, said Chad Rupe, acting administrator for USDA Rural Development's Rural Utilities Services. He was speaking at Fiber Broadband Association's Fiber Connect in Orlando this month.
As it writes a new bill to fund rural broadband that will open for public commentary in December, the United States Department of Agriculture wants to ensure high-speed broadband reaches unserved people in a reasonable time frame with solutions that last, Rupe said. It's considering whether to give higher rankings to certain technologies, although that is unlikely given the time constraints of fiber over wireless, for example, he said. And that would put the USDA in providers' decision-making shoes -- a place it does not wish to be, he said.
"One of the things we've looked at... is how long does fiber last versus how long does equipment last that is less robust? Everyone I talk to says fiber is the long-term solution," said Rupe. "[But] we can't leave people behind for 30 years. We have to be somewhat technology agnostic."
Related posts:
— Alison Diana, Editor, Broadband World News. Follow us on Twitter or @alisoncdiana.



Slovak Telekom and T-Mobile Czech Republic Chief Technology and Information Officer Branimir Maric is using his more than two decades' experience in telco, including 15 years in various ...




Operators cannot protect networks -- their own or their customers -- by building a hard shell around the infrastructure, given the sensitive data dwelling and being sent to and from edge ...




Communications service providers have long talked about improving the day-to-day experience of their customers, but have not always backed up their words with actions and resources.

All Broadband World Forum Perspectives
All resources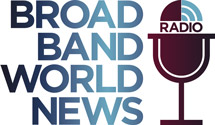 In this insightful Light Reading radio show, Kurt Raaflaub, Head of Strategic Solutions Marketing, will outline the key service provider challenges, deployment considerations, next-gen Gigabit technologies, and service models to win market share in the rapidly growing MDU market.
Wednesday, August 21, 2019
11:00 a.m New York./4:00 p.m.London
The cable industry took a major step in the battle for Gigabit broadband supremacy with the announcement of its 10G Platform vision. The key to realizing this vision hinges on leveraging the right access technologies and network architectures to provide the best balance of benefit versus cost.
One network path has the MSO embracing Next-Generation Hybrid Fiber Coax (NG HFC), which includes:
Distributed Access Architecture (DAA)
Node+0
Full Duplex DOCSIS (FDX)
Virtual Cable Converged Access Platforms (vCCAP)
Fiber-to-the-Home/Business (FTTH/B) is another network option, affording gigabit broadband scalability and 10Gbps service capability. How is an MSO to decide where which option works best and what to do now to prepare its networks for the onslaught of high-bandwidth residential and business applications?
During this webinar, Jack Burton, principal of Broadband Success Partners, outlines current and new access network architectures. Additionally, he will examine the facts and debunk some common misconceptions surrounding both fiber and NG HFC network deployment and maintenance.
Tuesday, September 10, 2019
12:00 p.m. New York / 5:00 p.m. London
Wi-Fi is the foundation of the connected home for consumers; yet, it's often a source of frustration. With the imminent release of the new Wi-Fi 6 standard – combined with a strong Managed Wi-Fi offer – service providers can reverse subscriber frustration while tapping into new revenue streams.
Key topics include:
What's different about Wi-Fi 6 and why it matters to your subscribers
The importance of offering Managed Wi-Fi and its connection to Wi-Fi 6
How you can elevate your brand and gain a strong foothold in the home network.