FCC Explores MDU Broadband Regulation

The Federal Communications Commission today requested public feedback into steps it can take to accelerate broadband deployment and tenant choice within multi-dwelling units (MDUs). The FCC is also seeking comment on the impact common agreements between operators and building owners have on next-generation networks.
By addressing MDUs -- which the FCC calls multiple tenant environments (MTEs) and interprets to include both dwellings and working buildings -- the US can close part of the digital divide, according to the agency. (Typically, fixed access vendors also include dorms, barracks and other constructs where multiple individuals or families reside within the general MDU category.) Almost 30% of the US population lives in condos and apartments, the agency said, with millions more working in office buildings.
Given the complexities and cost associated with deploying infrastructure, network operators often want exclusivity or some kind of market advantage if they invest in an MDU rollout. But, the FCC said, if providers know they must share those communication facilities with competitors they're less likely to invest in deployment. To further encourage investment in MTEs and increase consumer broadband choice, the FCC unveiled three steps:
Notice of proposed rulemaking (NPRM): The FCC wants public input on additional actions it can take to speed up broadband networks and services, especially comments on the effects on competitors and deployments of revenue-sharing agreements between owners and providers, exclusivity regarding rooftop facilities and single-provider wiring arrangements.
Declaratory ruling: The Commission clarified that it wants state and local experimentation to increase MTE access as long as these acts abide by federal law and policy
San Fran Sharing: The FCC preempted part of a San Francisco ordinance that required sharing in-use wiring in MTEs, a mandate that "deters deters broadband deployment, undercuts the Commission's rules regarding control of cable wiring in residential MTEs, and threatens the Commission's framework to protect the technical integrity of cable systems for the benefit of viewers," the FCC wrote.
Related posts:
— Alison Diana, Editor, Broadband World News. Follow us on Twitter or @alisoncdiana.



Slovak Telekom and T-Mobile Czech Republic Chief Technology and Information Officer Branimir Maric is using his more than two decades' experience in telco, including 15 years in various ...




Operators cannot protect networks -- their own or their customers -- by building a hard shell around the infrastructure, given the sensitive data dwelling and being sent to and from edge ...




Communications service providers have long talked about improving the day-to-day experience of their customers, but have not always backed up their words with actions and resources.

All Broadband World Forum Perspectives
All resources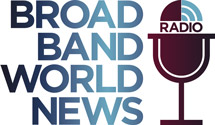 In this insightful Light Reading radio show, Kurt Raaflaub, Head of Strategic Solutions Marketing, will outline the key service provider challenges, deployment considerations, next-gen Gigabit technologies, and service models to win market share in the rapidly growing MDU market.
Wednesday, August 21, 2019
11:00 a.m New York./4:00 p.m.London
The cable industry took a major step in the battle for Gigabit broadband supremacy with the announcement of its 10G Platform vision. The key to realizing this vision hinges on leveraging the right access technologies and network architectures to provide the best balance of benefit versus cost.
One network path has the MSO embracing Next-Generation Hybrid Fiber Coax (NG HFC), which includes:
Distributed Access Architecture (DAA)
Node+0
Full Duplex DOCSIS (FDX)
Virtual Cable Converged Access Platforms (vCCAP)
Fiber-to-the-Home/Business (FTTH/B) is another network option, affording gigabit broadband scalability and 10Gbps service capability. How is an MSO to decide where which option works best and what to do now to prepare its networks for the onslaught of high-bandwidth residential and business applications?
During this webinar, Jack Burton, principal of Broadband Success Partners, outlines current and new access network architectures. Additionally, he will examine the facts and debunk some common misconceptions surrounding both fiber and NG HFC network deployment and maintenance.
Tuesday, September 10, 2019
12:00 p.m. New York / 5:00 p.m. London
Wi-Fi is the foundation of the connected home for consumers; yet, it's often a source of frustration. With the imminent release of the new Wi-Fi 6 standard – combined with a strong Managed Wi-Fi offer – service providers can reverse subscriber frustration while tapping into new revenue streams.
Key topics include:
What's different about Wi-Fi 6 and why it matters to your subscribers
The importance of offering Managed Wi-Fi and its connection to Wi-Fi 6
How you can elevate your brand and gain a strong foothold in the home network.