Even as peak network usage plateaus during the COVID-19 pandemic, Comcast reports that it has seen a sharp rise in the number of broadband customers that are logging into "xFi," its digital dashboard that helps customers manage and control their Wi-Fi networks and how they are being used.
According to an update posted by Comcast on Thursday, xFi usage has spiked 57%, with a 27% increase in customers using the platform's parental control features.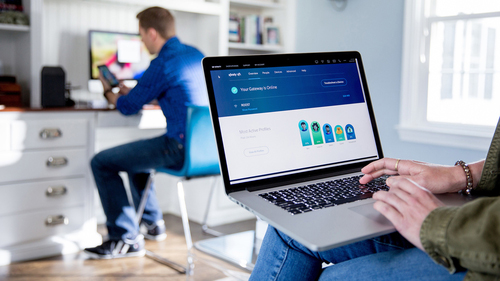 Comcast launched xFi on millions of select DOCSIS gateways in May 2017 and has been broadening the deployment ever since as it continued the introduction of new consumer premises equipment, including more advanced DOCSIS 3.1 gateways and xFi "pods" that help to extend and enhance the reach of the home Wi-Fi network.
According to Comcast, the most popular xFi-facing "actions" consumers are taking during a pandemic that is forcing millions to shelter at home include pausing the home Wi-Fi network during lunchtime (11:00 a.m. to 2:00 p.m.). Comcast said it has seen a general 75% increase in the number of times customers are hitting pause on their Wi-Fi network using the xFi platform.
Comcast said parents are also using xFi to extend the amount of time kids are allowed to access the home Wi-Fi network on weekdays by an additional hour per day (from three hours to four hours), as they spend more time at home for schoolwork and entertainment. xFi offers a feature that lets parents set alerts on the amount of time kids can use the home Wi-Fi network.
The cable op has also seen a 43% increase in the use of xFi content filters that screen out content that's not age-appropriate for children.
Peak network usage continued to flatten out
Following spikes in network usage during the initial phases of the pandemic, peak usage continues to flatten out.
Per the latest results from the NCTA's COVID-19 Dashboard, upstream peak growth rose just 0.8% for the week of April 11-18, while downstream peak growth dropped 1.8%.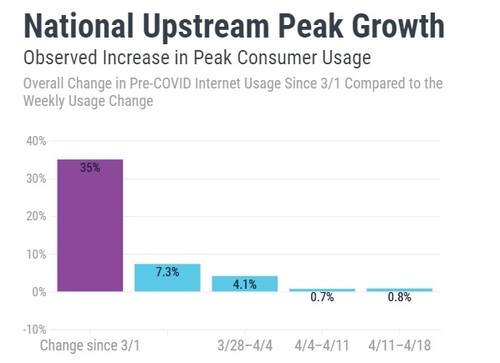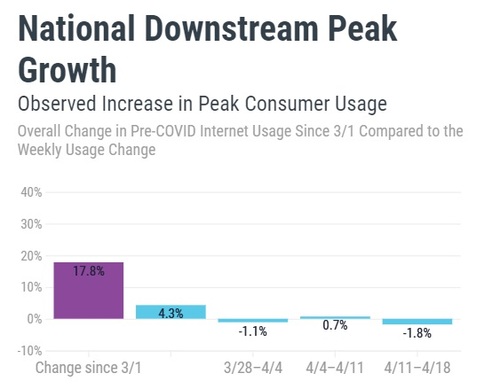 Introduced about a month ago, the dashboard tabulates network usage data from several US cable operators, including Altice USA, Cable One/Sparklight, Charter Communications, Comcast, Cox Communications, GCI, Mediacom Communications, Midco and Sjoberg's, a small cable op based in Thief River Falls, Minn.
The recent plateauing of peak usage "doesn't mean that we won't see some variation in peak demand increases (or decreases) from week to week among certain states and regions," the NCTA explained.
Meanwhile, BroadbandNow's fifth report tracking broadband speeds across 200 US cities during the pandemic, found that networks are generally adjusting to demand, save for some instances where speeds have slowed down.
Per the report, for the week of April 12-18, 67 cities (or 33.5% of the top 200) saw median upload speed decreases of 20% or more below recent weeks, and 51 cities being monitored (25.5%) recorded download speed dips of 20% or greater.
BroadbandNow said six cities had posted median upload speed decreases of greater than 40% out of range during the period: Baltimore, Maryland; Jamaica, New York; Oxnard, California; Albuquerque, New Mexico; Boca Raton, Florida; and New Orleans.
Related posts:

— Jeff Baumgartner, Senior Editor, Light Reading