AT&T C-Level Exec Pacewicz Joins MEF Board
LOS ANGELES -- MEF today announced that Roman Pacewicz, Chief Product Officer at AT&T Business, has joined the MEF Board of Directors. He now is part of a board of service and technology provider executives and other senior experts focused on advancing MEF 3.0 innovations designed to enable service providers worldwide to become more cloud-like, automated and interconnected.
"We happily welcome Roman to the MEF Board and are eager for him to dive into the exciting MEF 3.0 momentum that promises to transform the communications landscape," said Nan Chen, president of MEF. "Roman has a wealth of expertise from his experience at one of the largest, most innovative service providers in the world. This unique insight will be extremely beneficial as MEF members collaborate to define, deliver and certify agile, assured and orchestrated services across a global ecosystem of automated networks."
"As a leader in software-defined networking, AT&T shares in the MEF 3.0 vision to enable application-aware, leading-edge network services that provide a truly dynamic cloud-centric experience," said Pacewicz. "As businesses around the globe continue their digital transformation, they need edge-to-edge capabilities to integrate their networks. Businesses looking to provide a seamless connected environment for their customers will benefit greatly from a unified industry ecosystem that's focused on interoperability."
Pacewicz is a seasoned communications executive, serving AT&T for more than 25 years in a variety of marketing and strategy roles. In his current position, he leads the product management and development team for AT&T Business that defines product strategy and develops AT&T's global product portfolio that supports more than 3 million business customers.
MEF board of directors
The board now consists of:
Roman Pacewicz, Chief Product Officer, AT&T Business
Aamir Hussain, Executive Vice President and Chief Technology Officer, CenturyLink
Kevin O'Toole, Senior Vice President, Product Management, Comcast Business
Shawn Hakl, Senior Vice President Business Products, Verizon
Michael Strople, President Enterprise Networks, Zayo Group
Shahar Steiff, Assistant Vice President New Technology, PCCW Global
Gabriel Kerner, Vice President Network Products and Offerings, Amdocs Technology
Scott Mansfield, Standardization Researcher, Development Unit Network Products, Ericsson
Ralph Santitoro, Head of SDN/NFV/SD-WAN Services, Fujitsu Network Communications
Nan Chen, Executive Vice Chairman, CENX
As MSOs add networking equipment to support the growing number of node counts, rack space and power-cooling capacities at hub sites, DAA technologies such as Remote PHY become even more attractive, writes Viavi's Jim Walsh.
The Dutch telecom market boasts one of the most mature broadband sectors in the world, with fiber battling cable to be the leading network technology.
Just as some cable operators are entering the world of wireless services, a growing number of mobile carriers are heavily investing in fiber to support 5G, video and other data-intensive services.
In a first, Light Reading will tackle the big technology and business challenges facing the European cable industry at our Cable Next-Gen Europe conference in London on Nov. 6.
During prepared comments to a conservative group in Maine, Federal Communications Commission Chairman Ajit Pai outlined his concerns with several states' independent moves to reinstate the 2015 laws governing the Internet.
Thursday, September 27, 2018
2:00 pm ET / 11:00 am PT
Fast, reliable broadband is essential to how we live, work and play today – and the upcoming arrival of 5G will only further increase demand and reliance on fiber infrastructure. Already viewed by consumers as intolerable, delays, outages or the regular maintenance difficulties associated with operating a network will become further exacerbated when residential subscribers further rely on connected devices for day-to-day life. Just as providers deploy network automation tools to reduce operational issues, they must take similar care to manage consumer expectations when they roll out fiber or new services. This webinar features leaders who will discuss how to manage marketing and consumer expectations at every stage of the network lifecycle. Marketing professionals, c-level executives and policymakers interested in drumming up fiber envy should attend.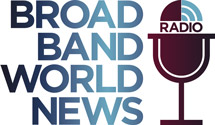 In this insightful Light Reading radio show, Kurt Raaflaub, Head of Strategic Solutions Marketing, will outline the key service provider challenges, deployment considerations, next-gen Gigabit technologies, and service models to win market share in the rapidly growing MDU market.
All resources
BT's Formula for F1 Success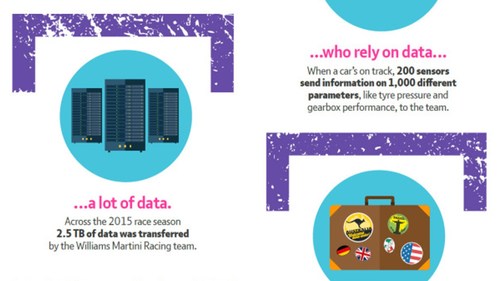 Infographics archive