With an eye fixed on the future of distributed architectures and virtualized networks, Tibit Communications has unleashed a small, pluggable PON OLT (optical line terminal) that's designed to snap into remote node devices and transceiver housings.
Tibit Communications 's new low-power product, called the MicroPlug OLT, squeezes the OLT down to the pluggable formfactor and pivots away from larger and more power-hungry chassis-based and 1-RU pizza box OLTs. More generally, the idea is to turn a 10-Gig switch into a PON OLT. (See Tibit Pursues PON With 'MicroPlug' OLT .)
"What is normally just the optic, we actually put the entire PON MAC inside of an Ethernet MAC," Jay Teborek, Tibit's VP of marketing, said.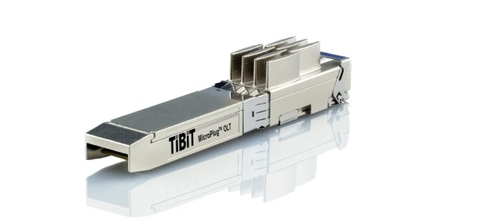 The secret to the shrinkage is a massive concentration of functionality at the chip level to support the small-format pluggable (SFP+) formfactor. Four years in development, Tibit's custom ASIC is equipped with a full Ethernet MAC (as the device plugs into an Ethernet switch), a CPU to handle management commands and two full 10-Gig PON Macs.
It's also designed to serve the needs of both cable operators and telcos. It uses a 10-Gig EPON MAC for cablecos and 10G GPON (XGS-PON) for telcos.
Though the MicroPlug OLT can serve both industries, the initial idea for this degree of miniaturization was spawned by discussions with the technical staffs at Comcast Corp. (Nasdaq: CMCSA, CMCSK) and Charter Communications Inc. about their needs to pack the OLT into a remote node while still meeting stringent thermal requirements, Teborek explained.
"That was our first market objective," he said.
As development continued, it turned out that the product could also address the telcos and fit into a 48-port switch, be remotely managed and fit into the Central Office Rearchitected as a Datacenter and network functions virtualization architectures.
The cable deployment scenario centers on deploying the MicroPlug OLT in remote nodes up to 100 kilometers away from the headend. The cable use-cases span both enterprise and residential, Teborek said.
On the enterprise side, MSOs are looking to use it for high-speed data services and mobile backhaul, a part of their business that's expected to grow as 5G and small cell networks take hold. For residential, MSOs are using PON, usually in targeted ways, to drive gigabit speeds. Of those two, the enterprise use-case for cable will be the fastest to deploy, Teborek predicted.
Tibit isn't saying a lot yet about the specific work it's doing with switch and remote node suppliers, though Ciena Corp. (NYSE: CIEN) and Juniper Networks Inc. (NYSE: JNPR) have been among the startup's most vocal supporters.
At the recent CableLabs Summer Conference in Keystone, Colo., where Tibit received "Best New Product" honors, it demonstrated its product working with a Ciena switch and a remote node from Vecima Networks Inc. (Toronto: VCM). (See Multi-Gig Brings Star Trek Holodeck to Cable.)
Tibit can't point to any deployment commitments as it targets general availability of the MicroPlug OLT by late November. However, Liberty Global Inc. (Nasdaq: LBTY) has been talking up Tibit's handiwork in the news releases.
Teborek said Tibit has been conducting tests on multiple networks globally with its earlier FPGA kit of the product, and that "every major carrier" in North America is sizing up trials with the company. Live field trials with the final product could get underway as early as late 2018, but any volume deployments aren't expected until 2019.
For now, Tibit hasn't come across any competition for its specific approach, as existing PON vendors would have to build the ASIC from the ground up.
"We don't see anyone on the horizon talking about this, let alone building it," Teborek said.
He said Tibit would be "open to anything" when asked if licensing its technology might be an option. "But right now we're focused on getting the module out," he said.
Petaluma, Calif.-based Tibit was founded in 2014 and has nearly 30 employees, including leadership that hails from companies such as Teknovus, Broadcom, Calix, Cyan and Imagine Communications. It raised $13.8 million in a series A round in January 2017 that took total funding past about $15 million. (See Broadcom Completes Teknovus Buy.)
— Jeff Baumgartner, Senior Editor, Light Reading