Gigabit Is Almost Everywhere, Says CableLabs
Gigabit availability is arriving at US households at lightning speeds: in June 2018, 63% of housing units -- 74% of the cable broadband footprint -- have access to 1Gbp/s, up 7% in three months, according to a report published this month by CableLabs.
In March 2018, 56% of US housing units -- or 66% of the cable broadband footprint -- had gigabit service or faster from their local cable operator, CableLabs reported in September 2018. That's because providers are heavily investing in their infrastructures in order to empower consumers and businesses to tap into capabilities that gigabit service delivers, wrote Mark Walker, director of Technology Policy at CableLabs, in a blog on the organization's website.
"CableLabs and the cable industry are continuing to advance the capacity and performance in each segment of the cable broadband network to remain well-ahead of consumer demand," he wrote. "We are focused on developing innovative network technologies in the areas of coax (e.g., DOCSIS 3.1 and full duplex DOCSIS), fiber (e.g., coherent optics in the access network) and wireless (e.g., WiFi and 5G), as well as defining optimal network architectures to provide the necessary capacity and performance in each segment of the network for today's gigabit services and those anticipated in the future."
While DOCSIS traditionally has provided asymmetric service, users increasingly create content -- such as video and gaming -- that demands symmetrical streaming. The anticipated increase of uses including telemedicine and the arrival of 5G with its as-yet-unknown use cases is only expected to place more need for equal up- and down-stream speeds. That's where D3.1 is heading, according to CableLabs, which has completed the FDX DOCSIS specifications and predicts commercial availability of "conforming network equipment with the next calendar year," according to its Fall 2018 InformED Insights report.
In addition, CableLabs is focused on adapting coherent optical transmission, typically used in metro and long-haul fiber networks, for use in access networks. By using coherent optic technologies, service providers could increase the per-strand capacity in their access networks by orders of magnitude compared with today's optical access technologies, the industry group said. Distributed Access Architecture (DAA) -- which helps enable deployment of fiber deeper into cable networks -- and consumers' demand for ever-higher speeds are driving this need for more fiber capacity in the access network.
Likewise, mobile wireless back-haul, 5G and commercial services also spur on optical fiber's development. To address this, CableLabs released two specifications for point-to-point coherent optics earlier this year.
On the wireless front, CableLabs developed protocols for WiFi proactive network maintenance (WiFi PNM) and global standards for WiFi performance, data elements and residential WiFi mesh networks. Most CableLabs members also are mobile network operators, and CableLabs released an addition to the DOCSIS specification to enable HFC networks to more effectively provide mobile wireless backhaul services to support increased deployment of small cell architectures and, eventually, 5G, the group said.
Related posts:
— Alison Diana, Editor, Broadband World News. Follow us on Twitter or @alisoncdiana.
Joint venture between OneWeb and Airbus opens facility that can make two satellites per day at one-fiftieth the cost of traditional factories that produce one satellite a year, boasts OneWeb Satellites.
Vendor expands focus into MSOs and utilities, increases fiber sales and extends efforts in global territories, as part of initiative to decrease reliance on CSPs.
Some operators expand existing D3.1 infrastructure, while others discover fiber-only is too slow and expensive to meet subscribers' needs quickly enough to keep them happy.
Piracy and account sharing are taking a sizable bite from operators' content revenue, with incumbents and OTT startups feeling the financial hurt.
The FCC drafts changes to accelerate its satellite review process about a week after Amazon's Project Kuiper files an application with the agency in the fast-moving space broadband race.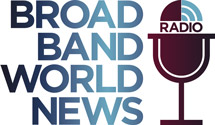 In this insightful Light Reading radio show, Kurt Raaflaub, Head of Strategic Solutions Marketing, will outline the key service provider challenges, deployment considerations, next-gen Gigabit technologies, and service models to win market share in the rapidly growing MDU market.
All resources
Tuesday, May 21, 2019
11:00 a.m. New York / 4:00 p.m London
The MDU market continues to face fierce competition among service providers due to tech-savvy residents (i.e., millennials), demand from building owners and management companies, plus the favorable economics of bulk contracts. However, no MDUs are the same, so service providers must use multiple technologies and inconsistent deployment models, increasing operational complexity and rollout costs.
The MDU market itself is evolving as residents adopt smart-home technologies, generating rising demand for smart apartments with built-in connected thermostats, keyless entryways and doors, and video doorbells. This evolution presents both new challenges and opportunities. In other words, service providers must consider innovative service-delivery strategies to compete and win.
In this Broadband World News and ADTRAN webinar, Kurt Raaflaub, Head of Strategic Solutions Marketing, will highlight emerging MDU broadband Internet trends and challenges. In addition, Kurt will outline the next-generation service creation and delivery platform, built on open standards, that allows service providers to connect millions of underserved MDUs, enables creation of user-driven services, and reduces operational complexity and costs.
Plus, special guest, Alice Lawson, Broadband and Cable Program Manager for the City of Seattle, will discuss Seattle's B4B-Build For Broadband initiative that addresses best practices in planning for MDU telecommunication infrastructure.