Orange Business Services' Isch With a Valentine for SD-WAN Lovers: BBWN Radio
As an early adopter of software-defined access, cloud and virtualization, Orange Business Services uses the empowering technology to accelerate change and foster agility across its own infrastructure, and improve its revenue through margin-rich, sticky services that retain enterprise customers' loyalty across its expanding European footprint.
Leading these initiatives is John Isch, practice director of the Network and Voice Center of Excellence at Orange Business Services -- and he will join Broadband World News Editor Alison Diana and Light Reading Executive Editor Mitch Wagner on Feb. 14, starting at 11:00 a.m. ET/8:00 a.m. PT/4:00 p.m. UK on BBWN Radio. Register here.
Flexible SD-WAN
to improve operational flexibility as it expands globally to ensure a presence in each country in which it operates. Fully automated Flexible SD-WAN is an "intelligent network with on-demand, virtualized services, centrally orchestrated for end-to-end performance and control," according to the French service provider.
This is the kind of simplicity and integrated interface enterprises want from service providers, Isch believes. During the IP radio broadcast, audience members can share their questions via BBWN, and hear Isch's thoughts and Orange Business Service's strategies in areas such as:
What are some of the major benefits the service provider sees from SD-WAN and related broadband infrastructure changes?
Do end-customers still have any misconceptions about cloud, virtualization or software-defined access?
How about service providers?
Is this a ubiquitous technology, in that it's suitable for providers of all sizes and geographies?
The role of fiber -- which executives credit for much 2018 revenue growth of broadband and services -- in Orange Business Services' network infrastructure design and support?
In fact, total IT and integration services kept a growth trajectory of plus 4% year-on-year during Orange's third-quarter earnings report, for the period ending last October. Cloud business increased more than 10%, said Ramon Fernandez, deputy CEO of finance and performance in Europe, during that period's earnings call.
Join John Isch, practice director of the Network and Voice Center of Excellence at Orange Business Services -- and BBWN's Alison Diana and Light Reading's Mitch Wagner on Feb. 14 at 11:00 a.m. ET/8:00 a.m. PT/4:00 p.m. UK by registering here! Bring your real questions and coffee. Alison and Mitch will bring an endless supply of virtual cake (no calories).
Related posts:
— Alison Diana, Editor, Broadband World News. Follow us on Twitter or @alisoncdiana.
Joint venture between OneWeb and Airbus opens facility that can make two satellites per day at one-fiftieth the cost of traditional factories that produce one satellite a year, boasts OneWeb Satellites.
Vendor expands focus into MSOs and utilities, increases fiber sales and extends efforts in global territories, as part of initiative to decrease reliance on CSPs.
Some operators expand existing D3.1 infrastructure, while others discover fiber-only is too slow and expensive to meet subscribers' needs quickly enough to keep them happy.
Piracy and account sharing are taking a sizable bite from operators' content revenue, with incumbents and OTT startups feeling the financial hurt.
The FCC drafts changes to accelerate its satellite review process about a week after Amazon's Project Kuiper files an application with the agency in the fast-moving space broadband race.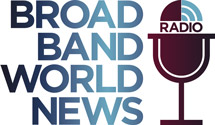 In this insightful Light Reading radio show, Kurt Raaflaub, Head of Strategic Solutions Marketing, will outline the key service provider challenges, deployment considerations, next-gen Gigabit technologies, and service models to win market share in the rapidly growing MDU market.
All resources
Tuesday, May 21, 2019
11:00 a.m. New York / 4:00 p.m London
The MDU market continues to face fierce competition among service providers due to tech-savvy residents (i.e., millennials), demand from building owners and management companies, plus the favorable economics of bulk contracts. However, no MDUs are the same, so service providers must use multiple technologies and inconsistent deployment models, increasing operational complexity and rollout costs.
The MDU market itself is evolving as residents adopt smart-home technologies, generating rising demand for smart apartments with built-in connected thermostats, keyless entryways and doors, and video doorbells. This evolution presents both new challenges and opportunities. In other words, service providers must consider innovative service-delivery strategies to compete and win.
In this Broadband World News and ADTRAN webinar, Kurt Raaflaub, Head of Strategic Solutions Marketing, will highlight emerging MDU broadband Internet trends and challenges. In addition, Kurt will outline the next-generation service creation and delivery platform, built on open standards, that allows service providers to connect millions of underserved MDUs, enables creation of user-driven services, and reduces operational complexity and costs.
Plus, special guest, Alice Lawson, Broadband and Cable Program Manager for the City of Seattle, will discuss Seattle's B4B-Build For Broadband initiative that addresses best practices in planning for MDU telecommunication infrastructure.