NJFX Expands Into Latin America
Wall, NJ -- NJFX, a cable landing station colocation campus offering tier three, carrier-neutral data center capabilities, expanded into the Latin American market, it revealed today. Through partnerships with global digital infrastructure providers and collaboration with European-based NetIX, a carrier-class Ethernet exchange, clients now can use Tier 3 data center capabilities plus increased connectivity options in this larger geography.
Growing network density and connectivity options empowered NJFX to become a strategic hub between the Americas and Europe. The colocation facility provides access to the Seabras-1 subsea cable system, which links the U.S. directly with Brazil. This means enterprises can connect from NJFX to business hubs in Latin America and beyond.
The NJFX campus also will let businesses connect to Europe through NetIX's peering point-of-presence (PoP). The NetIX network currently connects more than 20 IXPs, serves 100-plus members, reaches nearly 5,000 direct peers in 28 data centers and delivers close to 500 Gbps of traffic. NetIX reach is extending from Europe to the U.S. and down to Latin America.
"NJFX has become a strategic east coast hub for LatAm connectivity to and from the U.S. and Europe, while providing true diversity from Florida as a point of failure," said Felix Seda, general manager at NJFX. "We are proud to have such strategic partnerships and further leverage abilities to provide Seabras-1 capacity to and from LatAm into the NJFX CLS campus, as well as IP transit services for local and international Internet breakout connectivity at NJFX and Sao Paolo."
Brazilian ISPs can ride on Seabras-1 capacity to NJFX, whereby they can interconnect with NetIX and use its European reach. In addition, NetIX can bring its peering infrastructure from Europe, into the U.S. and on to the LATAM market.
The latest British FTTH startup, toob, pledges to pass 100,000 premises with its own fiber by the end of 2021.
Shrihari Pandit, president and CEO of 24-year-old Stealth Communications, shares his call to action to reject the current FCC's regulatory strategies and decisions.
Shields Energy's cloud-based IoT subscription service monitors power usage for telcos. It's currently only available to service providers for internal use, but it's an offering CSPs ultimately could provide to their customers for differentiation, lower churn and more revenue.
CBTS debuted a family of 10 Gbit optical networking solutions, coupled with off-the-shelf hardware and systems integration services designed to replicate the vendor experience of proprietary system days.
Spotty coverage and low penetration rates in Sacramento suggest that Verizon will have a tough time getting an attractive return on fixed wireless broadband service, analyst finds.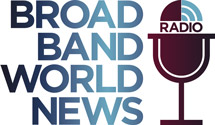 Tune in to Broadband World News Radio on February 14 at 11 a.m. ET / 8 a.m. PT / 4 p.m. UK when John Isch, Practice Director of the Network and Voice Center of Excellence at Orange Business Services, discusses use cases, ROI and misconceptions of software-defined wide-area networks, virtualization and cloud.
All resources
Wednesday, December 12, 2018
12 p.m. New York / 5 p.m. London
Consumers are buying millions of IoT devices, from smart thermostats and security systems to intelligent entertainment setups and furniture. Yet many of these devices remain isolated because home users are uncomfortable connecting them to each other – or even their WiFi. After all, their WiFi network was probably designed only to handle a few laptops, a gaming system and a couple of smartphones. Now, demand on the network is surging and even though you're delivering 100 Mbps to 1 Gbps, that doesn't necessarily mean the broadband power is in the right place or reaches every corner of a home.
Even if WiFi coverage is sufficient, typing is not on trend. Voice is far more natural, easier and faster. Using a TV keyboard is archaic when more and more households have access to cloud-based voice services, like Amazon Alexa. This webinar will explore how service providers can create a comfortable, truly smart home for consumers – simultaneously driving up margin and loyalty.
BT's Formula for F1 Success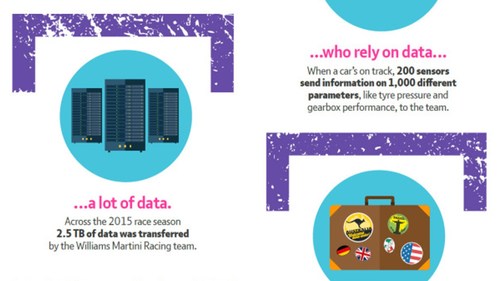 Infographics archive