BBWN Bites: Senators Ask for Better Broadband Measurement
Also in today's news roundup: Vodafone strikes a wholesale deal, former France Telecom execs stand trial for harassment.
Senators Amy Klobuchar (D-MN) and Shelley Moore Capito (R-WV) introduced the "Measuring the Economic Impact of Broadband Act," which would require the Secretary of Commerce, acting through the Director of the Bureau of Economic Analysis, to conduct a study of the effects of broadband deployment and adoption on the US economy. The senators, co-chairs of the Senate Broadband Caucus, are concerned the federal government measures the economic impact of many industries, but does not produce current, reliable statistics on the economic impact of broadband on the US economy. Said Klobuchar (also a Democrat presidential candidate):
"In the 21st-century economy, broadband is a critical force for creating jobs, leveling the playing field, and increasing opportunity. This bipartisan legislation will ensure that we have more reliable, publicly available economic data in order to make informed decisions about expanding broadband, connecting our communities, and keeping us competitive in an increasingly digital world."
Vodafone inked a wholesale deal with Telefónica Deutschland, giving Telefónica Deutschland access to the combined Vodafone/Unitymedia high-speed broadband network covering about 23.7 million German households. This agreement will help UK-based Vodafone get approval for its proposed €18.4 billion (US$20.93 billion) acquisition of Liberty Global's cable business in Germany, the Czech Republic, Hungary and Romania, which European regulators are scrutinizing.
Deutsche Telekom -- which is arguing against the Vodafone deal -- completed a rebranding initiative. DT merged subsidiaries T-Mobile Austria and UPC Austria into Magenta Telekom, which will provide both fixed-line and mobile services in Austria.
Seven former senior executives at France Telecom, which became Orange, are on trial this week for allegedly creating (and, some have charged, exulting in) an atmosphere of terror that drove at least 19 employees to commit suicide, reported UK's The Telegraph. The reign of terror reportedly included relocating employees far from their families; moving people's jobs multiple times a year; "forgetting" workers after moving offices and leaving them in old locales without furniture or phones; and other mental, physical and emotional cruelties. Former President of France Telecom, Didier Lombard, second-in-command Louis-Pierre Wenes and former Human Resources Director Olivier Barberot face a maximum year in prison and €15,000 fine ($16,779.90). Four other executives face charges of complicity. The company faces a €75,000 ($83,899.50) fine. All pled not guilty. Read the France Telecom story as it unfolded in Light Reading:

— Alison Diana, Editor, Broadband World News. Follow us on Twitter or @alisoncdiana.
Some operators expand existing D3.1 infrastructure, while others discover fiber-only is too slow and expensive to meet subscribers' needs quickly enough to keep them happy.
Piracy and account sharing are taking a sizable bite from operators' content revenue, with incumbents and OTT startups feeling the financial hurt.
The FCC drafts changes to accelerate its satellite review process about a week after Amazon's Project Kuiper files an application with the agency in the fast-moving space broadband race.
Federal agency suggests that mandating competition and infrastructure sharing will discourage MDU buildouts and perpetuate the digital divide.
Subsidiary Kuiper Systems, led by Jeff Bezos, requests FCC permission to launch 3,236 satellites slated to beam broadband service to most of the under- and unserved parts of the world.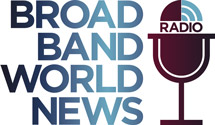 In this insightful Light Reading radio show, Kurt Raaflaub, Head of Strategic Solutions Marketing, will outline the key service provider challenges, deployment considerations, next-gen Gigabit technologies, and service models to win market share in the rapidly growing MDU market.
All resources
Tuesday, May 21, 2019
11:00 a.m. New York / 4:00 p.m London
The MDU market continues to face fierce competition among service providers due to tech-savvy residents (i.e., millennials), demand from building owners and management companies, plus the favorable economics of bulk contracts. However, no MDUs are the same, so service providers must use multiple technologies and inconsistent deployment models, increasing operational complexity and rollout costs.
The MDU market itself is evolving as residents adopt smart-home technologies, generating rising demand for smart apartments with built-in connected thermostats, keyless entryways and doors, and video doorbells. This evolution presents both new challenges and opportunities. In other words, service providers must consider innovative service-delivery strategies to compete and win.
In this Broadband World News and ADTRAN webinar, Kurt Raaflaub, Head of Strategic Solutions Marketing, will highlight emerging MDU broadband Internet trends and challenges. In addition, Kurt will outline the next-generation service creation and delivery platform, built on open standards, that allows service providers to connect millions of underserved MDUs, enables creation of user-driven services, and reduces operational complexity and costs.
Plus, special guest, Alice Lawson, Broadband and Cable Program Manager for the City of Seattle, will discuss Seattle's B4B-Build For Broadband initiative that addresses best practices in planning for MDU telecommunication infrastructure.