Coop Sees 59-Fold Return on Profit With Calix Cloud, Preps for Smart Home
SAN JOSE, Calif. -- Calix today announced Pioneer Telephone Cooperative is leveraging Calix Marketing Cloud (CMC) to identify members with sub-optimal experiences who it then provides with upgrade offers to elevate their experience. Pioneer's first targeted experience campaign generated a 59-fold profit return on its campaign investment by leveraging CMC's behavioral insights. Furthermore, Pioneer combined CMC insights with Calix Support Cloud (CSC) to increase the speed and quality of members' support interactions. Lastly, the Oklahoma-based cooperative plans to further enhance members' experience by deploying the GigaSpire Blast powered by EXOS, an industry-leading WiFi 6 smart home system.
The first CMC-enabled campaign identified approximately 15% Pioneer members who averaged at least 100 downstream service limit hits per day. Pioneer used these insights to craft a targeted upgrade campaign that improves member satisfaction by meeting their needs with a higher service tier, while also generating significant incremental revenue. In addition, via deployment of CSC and its incorporated Network Self-Heal capabilities, Pioneer proactively monitors, diagnoses and manages members' home networks remotely. This allows it to address issues before they cause a Wi-Fi problem. Finally, as Pioneer deploys the end-to-end Calix Smart Home and Business solution, it addresses CAF testing performance requirements through the Ookla capabilities embedded in the platform.
"Calix Cloud has delivered the critical insights that ensure we are proactively delivering the right service to and interacting with each member efficiently," said Blake Callaham, division manager of marketing and service for Pioneer Telephone Cooperative. "With the success of our cloud deployments, we are excited to continue our smart home journey by delivering WiFi 6 to our members and ensuring compliance with CAF testing performance requirements ahead of the upcoming deadline. Calix has given us the tools we need to provide the best possible experience for our members today while ensuring that we can continue to meet their growing expectations in the future."
Pioneer, which has been a Calix partner since 2004, is committed to continuously investing in the latest technologies and best practices. For instance, the innovative regional cooperative plans to increase its fiber broadband members by 94% by 2020 to provide the best possible experience. Pioneer also established an eight-member cross-functional "Experience Management Team" to ensure the entire organization is aligned to this mission. Going forward, Pioneer will further elevate the member experience by offering new services that will be delivered through the EXOS platform.
"Google and Amazon have proven that the company with the best insights and data wins," said Michael Weening, EVP of field operations for Calix. "The combination of the insights generated through Calix Cloud and the ultimate WiFi combined with the new services delivered through the EXOS-enabled GigaSpire ensure Pioneer is able to lead their market by leveraging data to provide an unmatched member experience while growing their business."
Calix Inc. (NYSE: CALX)
Vendor expands focus into MSOs and utilities, increases fiber sales and extends efforts in global territories, as part of initiative to decrease reliance on CSPs.
Some operators expand existing D3.1 infrastructure, while others discover fiber-only is too slow and expensive to meet subscribers' needs quickly enough to keep them happy.
Piracy and account sharing are taking a sizable bite from operators' content revenue, with incumbents and OTT startups feeling the financial hurt.
The FCC drafts changes to accelerate its satellite review process about a week after Amazon's Project Kuiper files an application with the agency in the fast-moving space broadband race.
Federal agency suggests that mandating competition and infrastructure sharing will discourage MDU buildouts and perpetuate the digital divide.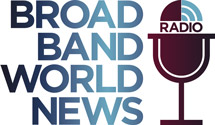 In this insightful Light Reading radio show, Kurt Raaflaub, Head of Strategic Solutions Marketing, will outline the key service provider challenges, deployment considerations, next-gen Gigabit technologies, and service models to win market share in the rapidly growing MDU market.
All resources
Tuesday, May 21, 2019
11:00 a.m. New York / 4:00 p.m London
The MDU market continues to face fierce competition among service providers due to tech-savvy residents (i.e., millennials), demand from building owners and management companies, plus the favorable economics of bulk contracts. However, no MDUs are the same, so service providers must use multiple technologies and inconsistent deployment models, increasing operational complexity and rollout costs.
The MDU market itself is evolving as residents adopt smart-home technologies, generating rising demand for smart apartments with built-in connected thermostats, keyless entryways and doors, and video doorbells. This evolution presents both new challenges and opportunities. In other words, service providers must consider innovative service-delivery strategies to compete and win.
In this Broadband World News and ADTRAN webinar, Kurt Raaflaub, Head of Strategic Solutions Marketing, will highlight emerging MDU broadband Internet trends and challenges. In addition, Kurt will outline the next-generation service creation and delivery platform, built on open standards, that allows service providers to connect millions of underserved MDUs, enables creation of user-driven services, and reduces operational complexity and costs.
Plus, special guest, Alice Lawson, Broadband and Cable Program Manager for the City of Seattle, will discuss Seattle's B4B-Build For Broadband initiative that addresses best practices in planning for MDU telecommunication infrastructure.