BBWN Bites: Comcast 'Pet Finity' Lens Discloses Secret Life of Furry Friends
Also today: Ofcom loses its CEO and updates on universal UK broadband access rights; Nokia wins with two techs on two continents; service providers axed more than 125,000 jobs in three years; and DT turns on its new IoT network.
Forget about security: Turns out pet-owning, connected home dwellers would much rather keep an eye on their furry or feathered friends than the front door. That's one of several cute takeaways from a survey by Comcast, designed to sell its new "pet filter" on the operator's Xfinity Camera. Of those polled, 44% check in on their pets four times daily or more, 38% view their pets from work and 94% said remotely seeing their pet it's one of the best parts of their day. It was about 3:1 dogs over cats -- which probably also explains why 84% checked in to make sure their pet was behaving. As a cat person (who also loves dogs), I know Rina and Jasmine would never consider misbehaving while alone at home. Never. Right?
In addition to announcing the departure of its CEO, Sharon White, UK regulator Ofcom today confirmed details about how the Universal Service Obligation (USO) -- a minimum of 10 Mbit/s+ broadband service that will need to be delivered by BT and KCOM -- will work when it's brought into force on March 20, 2020. The ISPs' fixed-line infrastructure is capable of delivering "superfast" broadband of at least 24 Mbit/s to 95% of the country, so most homes and businesses already have decent broadband access but 2% -- about 620,000 premises -- currently cannot get 10 Mbit/s and these are the ones that the USO aims to address. Under USO, this last 2% of primarily rural and disadvantaged urban residents have the "legal right [to] request" a 10 Mbit/s connection from a participating ISP. However, "premises will not be eligible for a USO connection if they are included in a publicly funded broadband rollout plan within the next 12 months," Ofcom said. Got that? Didn't think so! (See Ofcom Claims Credit for Full-Fiber 'Momentum' in UK.)
Nokia inked two wins this week: Altibox will use the vendor's Gainspeed Unified Cable Access solution based on the vendor's fully virtualized Distributed Access Architecture (vDAA) for Norwegian and Austrian customers. With help from local partner Eidsiva Bredband, Altibox will use vDAA as the bedrock of its enhanced all-IP ultra-broadband services for business and residential subscribers. Across the world, Lebanese fixed-network services provider Ogero, which also is the infrastructure for the country's Ministry of Telecommunication, is one of the world's first to commercially trial Nokia's Fixed Access Network Slicing (FANS) solution. With this tech, Ogero creates several discrete, programmable slices over its FTTH network. Once deployed, the operator then can give network operators a network slice that acts like their own physical network, complete with autonomous control, performance metrics and services but without the usual infrastructure resources or costs associated with deploying separate networks per customer.
Twenty-one major CSPs tracked by Light Reading axed more than 44,000 jobs last year. In the past three years, the combined operators shed almost 127,000 positions -- about 7% of total workforce in 2015 -- due to streamlining operations and merging assets after acquisitions and combining businesses, reports Iain Morris. Among some of the largest: AT&T axed 11,780 jobs in 2018 from its telecom and Time Warner TV businesses (approximately 4% of December 2017 workforce); Verizon slashed 10,900 positions last year (or about 7% of its year-end 2017 headcount); and last year Vodafone gave the chop to 7,000-plus employees in the UK and India (with plans now to cut headcount elsewhere in Europe), which equated to 7% of its global workforce.
Deutsche Telekom went live with its new IoT network, bringing the service to about nine out of ten Germans and 90% of its geography. The operator has extensively invested in this market by: Developing a platform; inking partnerships with other operators and multiple vendors; expanding into different European countries; and focusing on interoperability via the platform to ensure top consumer brands will work within its ecosystem. (See DT Powers Up the Smart Appliance Market .)
Related posts:
— Alison Diana, Editor, Broadband World News. Follow us on Twitter or @alisoncdiana.
The US Department of Agriculture gives high points to those operators providing symmetric, high-speed infrastructure when considering loan and grant applicants.
UK mobile operator will use its 5G spectrum to launch a fixed wireless access (FWA) service in London in August and plans to have that offer, plus mobile 5G services, in 25 UK cities by the end of this year.
Authorization of $166.8 million over next decade earmarked for 60,850 unserved rural homes and businesses across 22 states.
Tunable optics components add up to about $1,000, says Nokia's Stefaan Vanhastel, too high an admission cost for the $26-plus billion corporation in a market estimated at $204 million in 2022.
As enterprises adopt public networking, their adoption of dark fiber for high-security uses grows, said Ed Morche, president of enterprise and government markets at CenturyLink.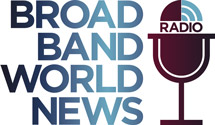 In this insightful Light Reading radio show, Kurt Raaflaub, Head of Strategic Solutions Marketing, will outline the key service provider challenges, deployment considerations, next-gen Gigabit technologies, and service models to win market share in the rapidly growing MDU market.
All resources
Tuesday, May 21, 2019
11:00 a.m. New York / 4:00 p.m London
The MDU market continues to face fierce competition among service providers due to tech-savvy residents (i.e., millennials), demand from building owners and management companies, plus the favorable economics of bulk contracts. However, no MDUs are the same, so service providers must use multiple technologies and inconsistent deployment models, increasing operational complexity and rollout costs.
The MDU market itself is evolving as residents adopt smart-home technologies, generating rising demand for smart apartments with built-in connected thermostats, keyless entryways and doors, and video doorbells. This evolution presents both new challenges and opportunities. In other words, service providers must consider innovative service-delivery strategies to compete and win.
In this Broadband World News and ADTRAN webinar, Kurt Raaflaub, Head of Strategic Solutions Marketing, will highlight emerging MDU broadband Internet trends and challenges. In addition, Kurt will outline the next-generation service creation and delivery platform, built on open standards, that allows service providers to connect millions of underserved MDUs, enables creation of user-driven services, and reduces operational complexity and costs.
Plus, special guest, Alice Lawson, Broadband and Cable Program Manager for the City of Seattle, will discuss Seattle's B4B-Build For Broadband initiative that addresses best practices in planning for MDU telecommunication infrastructure.