BBWN Bites: Openreach Swaps Some VDSL2 Cabinets, Intelsat Soars Into Indonesia
Also in today's BBWN Bites: Cable One adds TierPoint exec to board, Safaricom CEO loses battle with cancer, ETSI adds 5G and networking features, and BT preps for mass layoffs.
Intelsat will augment Indonesia's broadband capabilities via a newly inked deal with Aplikanusa Lintasarta, a data communication and IT services provider that will use two Intelsat high-throughput satellites (the Intelsat 33e and Horizons 3e) to deliver data and voice services across the Asia Pacific and Pacific Ocean. The contract (for an undisclosed amount) will help the Indonesian government attain its goal of creating a "digitally inclusive society" within the world's fourth most populous country by 2023.
Openreach will replace at least some of ECI's poorly performing VDSL2 cabinets with Huawei equivalents, according to a couple of UK publications. There are more than 25,000 ECI cabinets in Openreach territory that could be swapped, testing found. ECI's rollout focused almost solely on cities, whereas Huawei's cabinets support both rural and urban deployments. In addition, the Chinese vendor's cabinets support G.INP, DSLAM and vectoring, and deliver higher speeds, testing showed. Is Openreach considering other vendors, given its apparent dissatisfaction with ECI? Does uncertainty about Huawei's network infrastructure role have any impact on its VDSL2 relationships in the UK? (See Huawei's Woes Equal Competitors' Boon.)
Mary Meduski -- president, CFO and board member at IT and data center service provider TierPoint -- was elected to Cable One's board of directors, effective immediately. The board now has nine members; Meduski will serve on the Audit Committee.
Safaricom mourns the loss of CEO Bob Collymore, who died at 61 after a long struggle against a fast-developing form of cancer, acute myeloid leukemia. In May, Safaricom expanded Collymore's contract another year, to August 2020, which would have marked his tenth year at the Kenyan service provider.
The European Telecommunications Standards Institute (ETSI) added features in NFV Release 3 designed to make it 5G-friendlier. This includes support for network slicing, increasingly popular among service providers that want to converge networks or services on fewer networks, as well as multi-domain management -- attractive for today's services-oriented operators and the anticipated slew of new offerings 5G will generate.
On July 10, former Unliver chief human resources officer Leena Nair will join BT's board of directors as a non-executive director; she'll also join the remuneration, nominations and digital impact & sustainability committees. The UK incumbent is gearing up to shed about 13,000 employees as it looks to get leaner, meaner and more competitive with the fiber-deploying altnets spreading dissension across the British Isles.
Related posts:
— Alison Diana, Editor, Broadband World News. Follow us on Twitter or @alisoncdiana.
Some operators expand existing D3.1 infrastructure, while others discover fiber-only is too slow and expensive to meet subscribers' needs quickly enough to keep them happy.
Piracy and account sharing are taking a sizable bite from operators' content revenue, with incumbents and OTT startups feeling the financial hurt.
The FCC drafts changes to accelerate its satellite review process about a week after Amazon's Project Kuiper files an application with the agency in the fast-moving space broadband race.
Federal agency suggests that mandating competition and infrastructure sharing will discourage MDU buildouts and perpetuate the digital divide.
Subsidiary Kuiper Systems, led by Jeff Bezos, requests FCC permission to launch 3,236 satellites slated to beam broadband service to most of the under- and unserved parts of the world.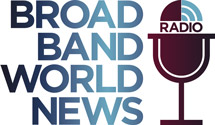 In this insightful Light Reading radio show, Kurt Raaflaub, Head of Strategic Solutions Marketing, will outline the key service provider challenges, deployment considerations, next-gen Gigabit technologies, and service models to win market share in the rapidly growing MDU market.
All resources
Tuesday, May 21, 2019
11:00 a.m. New York / 4:00 p.m London
The MDU market continues to face fierce competition among service providers due to tech-savvy residents (i.e., millennials), demand from building owners and management companies, plus the favorable economics of bulk contracts. However, no MDUs are the same, so service providers must use multiple technologies and inconsistent deployment models, increasing operational complexity and rollout costs.
The MDU market itself is evolving as residents adopt smart-home technologies, generating rising demand for smart apartments with built-in connected thermostats, keyless entryways and doors, and video doorbells. This evolution presents both new challenges and opportunities. In other words, service providers must consider innovative service-delivery strategies to compete and win.
In this Broadband World News and ADTRAN webinar, Kurt Raaflaub, Head of Strategic Solutions Marketing, will highlight emerging MDU broadband Internet trends and challenges. In addition, Kurt will outline the next-generation service creation and delivery platform, built on open standards, that allows service providers to connect millions of underserved MDUs, enables creation of user-driven services, and reduces operational complexity and costs.
Plus, special guest, Alice Lawson, Broadband and Cable Program Manager for the City of Seattle, will discuss Seattle's B4B-Build For Broadband initiative that addresses best practices in planning for MDU telecommunication infrastructure.