BBWN Bites: Microsoft Extends Broadband to New Markets
Also, Michigan offers millions in grants; a verdict in Orange CEO case; Europe penalizes Belgian broadband initiative; Telefónica wholesaler expands offerings; solar powers network vendor and WISPA's new directors.
Faster Internet is on its way in several US states. First, Watch Communications teamed up with the Microsoft Airband Initiative to bring broadband access to about 17 million people in Indiana, Ohio and Illinois by July 2022. This ongoing program taps unused broadcast TV frequencies and local service providers to deliver connectivity to rural regions and unserved populations, which Microsoft estimates at about 162 million people across the nation (the FCC says 21-plus million Americans don't have broadband). The two organizations expect to reach 50 counties in Indiana, 22 counties in Illinois and most Ohio counties, according to Microsoft.
And Consolidated Communications is launching gigabit services to 12,000-plus residential and SMB premises via its new FTTP deployment, available to 500,000 Northern New England customers. This, of course, accelerates subscribers' symmetrical speeds for increasingly popular add-on services like video, cloud-based services and other more margin-rich, differentiating offerings available via Consolidated Communications' portal.
In related news, Michigan is offering $20 million in grants to service providers as part of its Connecting Michigan Communities program. Operators can apply for up to $5 million per grant for wiring unserved and under-served areas; the deadline is Aug. 31, 2019, and awardees will be announced in April 2020.
A French court has cleared Orange CEO and Chairman Stephane Richard of complicity in fraud, ending a drawn-out legal case and enabling him to stay at the helm of the international operator. Allegations go back to 2008; that's when government officials accused Richard of working with convicted businessman Bernard Tapie to cheat the French government out of about €403 million (US$455 million).
The sun is now powering about 90% of the Anaheim, Calif.-based headquarters of networking and broadband vendor Zyxel, according to Solar Power World. Partners SunPower and Renova Energy worked with Zyxel over about seven months, from design to deployment, as part of the vendor's plan to cut its carbon footprint and improve energy efficiency (plus save money).
The European Commission ordered Belgium to pay €5,000 per day for its failure to implement an EU mandate on high-speed Internet deployment. The European Commission started legal action against the country two years ago when the directive had not been translated into Belgian law. This directive, which lays out rules for high-speed broadband rollouts across the bloc, intends to reduce pricing for consumers and was required to be transposed into national law by Jan. 1, 2016 at the latest.
Telefónica International Wholesale Services (TIWS) expanded its offerings into more than 30 European and Latin American countries. TIWS, Telefónica's wholesale business unit, provides Internet services to operators looking to deliver cloud apps, high-definition video streaming and other offerings to customers outside their footprints.
WISPA, an association of wireless ISPs and companies that support fixed wireless, today announced that Dave Giles, Todd Harpest and Daniel White each won three-year terms to its 2019 board of directors. Giles is general manager for fixed wireless at operator Midco; Harpest is director, External Affairs and Regulatory at MetaLINK Technologies, which he co-founded 23 years ago as a dial-up ISP (it now uses fiber and wireless of course); and White is co-founder of white-label voice-over-IP and IPTV provider Atheral.
Related posts:
— Alison Diana, Editor, Broadband World News. Follow us on Twitter or @alisoncdiana.
Some operators expand existing D3.1 infrastructure, while others discover fiber-only is too slow and expensive to meet subscribers' needs quickly enough to keep them happy.
Piracy and account sharing are taking a sizable bite from operators' content revenue, with incumbents and OTT startups feeling the financial hurt.
The FCC drafts changes to accelerate its satellite review process about a week after Amazon's Project Kuiper files an application with the agency in the fast-moving space broadband race.
Federal agency suggests that mandating competition and infrastructure sharing will discourage MDU buildouts and perpetuate the digital divide.
Subsidiary Kuiper Systems, led by Jeff Bezos, requests FCC permission to launch 3,236 satellites slated to beam broadband service to most of the under- and unserved parts of the world.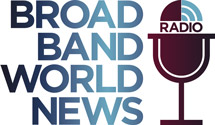 In this insightful Light Reading radio show, Kurt Raaflaub, Head of Strategic Solutions Marketing, will outline the key service provider challenges, deployment considerations, next-gen Gigabit technologies, and service models to win market share in the rapidly growing MDU market.
All resources
Tuesday, May 21, 2019
11:00 a.m. New York / 4:00 p.m London
The MDU market continues to face fierce competition among service providers due to tech-savvy residents (i.e., millennials), demand from building owners and management companies, plus the favorable economics of bulk contracts. However, no MDUs are the same, so service providers must use multiple technologies and inconsistent deployment models, increasing operational complexity and rollout costs.
The MDU market itself is evolving as residents adopt smart-home technologies, generating rising demand for smart apartments with built-in connected thermostats, keyless entryways and doors, and video doorbells. This evolution presents both new challenges and opportunities. In other words, service providers must consider innovative service-delivery strategies to compete and win.
In this Broadband World News and ADTRAN webinar, Kurt Raaflaub, Head of Strategic Solutions Marketing, will highlight emerging MDU broadband Internet trends and challenges. In addition, Kurt will outline the next-generation service creation and delivery platform, built on open standards, that allows service providers to connect millions of underserved MDUs, enables creation of user-driven services, and reduces operational complexity and costs.
Plus, special guest, Alice Lawson, Broadband and Cable Program Manager for the City of Seattle, will discuss Seattle's B4B-Build For Broadband initiative that addresses best practices in planning for MDU telecommunication infrastructure.