BBWN Bites: Shaw Broadband Subs Arc Up With BlueCurve
Also today, OneWeb's satellite success, DZS-KeyMile gets a win, Siklu switches CEOs and smart-home devices go forth and multiply.
Fixed wireless radio vendor Siklu has appointed Ronen Ben-Hamou as its new CEO. With more than 20 years' experience in telecom and IoT at companies such as Telit and Ericsson, Ben-Hamou aims to lead Siklu in the burgeoning market for 5G mmWave solutions. No word yet on what led the company's former CEO, Eyal Assa, to the exit. Assa was appointed as Siklu's CEO just over two years ago, is no longer listed on the company's website and wasn't even referenced in the press release announcing Ben-Hamou's appointment.
Canadian MSO Shaw Communications launched the BlueCurve home WiFi app to accelerate broadband growth and create a foundation for IPTV services across its DOCSIS 3.1 network. BlueCurve is Shaw's version of Comcast Xfinity and the service has helped Shaw increase broadband subscriptions and equipment self-installs. (See Shaw Bets on BlueCurve for Broadband.)
OneWeb today said all six satellites traveling in low earth orbit (LEO) delivered high-speed, low latency services at more than 400 Mbit/s. This easily allowed them to stream real-time, fully high-def video from space. The tests occurred in Seoul, South Korea.
German broadband provider COM-IN is using DZS-KeyMile's MileGate access platform to expand its optical fiber infrastructure and deliver full-fiber to all residents and businesses within the city of Ingolstadt by 2021. (See COM-IN Chooses DZS-KeyMile for All-Fiber Network.)
According to Parks Associates, 28% of US broadband households own at least one smart-home device. After buying their first connected device -- often a thermostat, security camera or speaker -- many quickly add to their collection, as device-owning households have an average of six units in their home, the research firm said.
Related posts:
— Alison Diana, Editor, Broadband World News. Follow us on Twitter or @alisoncdiana.
Findings from university researchers and The Wall Street Journal indicate that many US homes are overpaying for broadband.
As cable operators weigh construction costs, the potential for service disruptions, training needs and network maintenance, the decision on which path to take isn't so straightforward anymore.
In a one-on-one interview with Broadband World News, ADTRAN Chairman and CEO Tom Stanton speaks about the vendor's success with a new breed of broadband providers, today's competitive environment and, yes, Verizon and NG-PON2.
In a provocative new BBWN webinar, Broadband Success Partners' Jack Burton will delve into cable's next-gen HFC architecture plans and explain why going all-fiber may make more sense for operators right now.
Five years ago, NOS board member Manuel Ramalho Eanes helped steer the Portuguese service provider toward a future heavily reliant on smart homes and cities. It's a decision the provider is glad it made.



Five years ago, NOS board member Manuel Ramalho Eanes banked big on smart homes and smart cities.




Slovak Telekom and T-Mobile Czech Republic Chief Technology and Information Officer Branimir Maric is using his more than two decades' experience in telco, including 15 years in various ...




Operators cannot protect networks -- their own or their customers -- by building a hard shell around the infrastructure, given the sensitive data dwelling and being sent to and from edge ...




Communications service providers have long talked about improving the day-to-day experience of their customers, but have not always backed up their words with actions and resources.

All Broadband World Forum Perspectives
All resources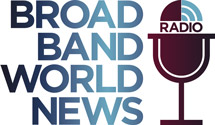 In this insightful Light Reading radio show, Kurt Raaflaub, Head of Strategic Solutions Marketing, will outline the key service provider challenges, deployment considerations, next-gen Gigabit technologies, and service models to win market share in the rapidly growing MDU market.
Tuesday, September 10, 2019
12:00 p.m. New York / 5:00 p.m. London
Wi-Fi is the foundation of the connected home for consumers; yet, it's often a source of frustration. With the imminent release of the new Wi-Fi 6 standard – combined with a strong Managed Wi-Fi offer – service providers can reverse subscriber frustration while tapping into new revenue streams.
Key topics include:
What's different about Wi-Fi 6 and why it matters to your subscribers
The importance of offering Managed Wi-Fi and its connection to Wi-Fi 6
How you can elevate your brand and gain a strong foothold in the home network.