BBWN Bites: Reliance Jio to Debut Fixed Broadband – Report
Also in today's BBWN Bites: Broadband buoys Altice USA results, new Pew tool encourages research into US states' connectivity policies, Vodafone finalizes European acquisitions, Telenet ekes out sales increase, new features ring up more revenue for smart doorbells and Missouri telecom association has a new chairman.
Reliance Jio is expected to unveil three fiber-based fixed broadband services at its August 12 annual meeting, one year after it debuted a trial of its gigabit offering. These residential services could include an entry-level 100 Mbit/s offering; a bundled broadband and TV service; as well as a premium bundle of high-speed broadband, TV and smart-home devices, according to Economic Times India, citing a note to clients from Bank of America-Merrill Lynch. The brokerage does not expect parent company Reliance Industries (RIL) to heavily discount GigaFiber packages, opting instead to differentiate itself through "value add offerings." Although RIL did not confirm these reports, it did state trials are in the final stages and hinted a launch would come soon.
Strong residential and business broadband helped Altice USA reach revenue of $2.45 billion, up almost 4% year-over-year (YoY) from $2.36 billion. The operator credited its ongoing network investment and enhanced WiFi router for improved home-broadband trends, which reached 429,000 unique Altice One customers in Q2 2019; that's about 13% of all video subs, versus 4% 12 months ago. Broadband revenue for the quarter hit $806.3 million. Residential ARPU per unique customer increased 2.9% YoY to $144.27 in Q2 2019, or about 3.4% up from last year's Q2. On the business services side, Altice USA saw revenue growth of +6.1% YoY in Q2 2019, with continued strength in its Enterprise & Carrier segment of more than 5.3% YoY and SMB about 6.5% YoY. (For Altice Europe's results, see Eurobites: Altice Full of Joie de Vivre After French 'Turnaround'.)
Vodafone says it's completed the takeover of Liberty Global's former European assets in Germany, Hungary, Romania and the Czech Republic. Despite Deutsche Telekom's fierce complaints about the move on competitive grounds, Vodafone now is Europe's biggest operator offering fixed and wireless services. The operator said it has 54 million subscribers "on net" with cable and fiber and a next-generation network reach of 124 million homes and businesses. DT is in Vodafone's sights, with CEO Nick Read stating it will sell gigabit services to 25 million German homes by year-end 2022 compared with his prediction DT's all-fiber network will reach 8 million by that time.
Liberty's Telenet Belgian subsidiary increased half-year sales to €1.26 billion ($1.39 billion), growth of 1% compared with 12 months prior. Its acquisition of the Nextel and De Vijver Media businesses bumped up sales, but net profit toppled 48%, to €56 million ($62 million), due to a non-cash loss on interest rate derivatives, according to Telenet.
The Pew Charitable Trusts on Wednesday rolled out its State Broadband Policy Explorer, a tool that lets people discover which state agency funds programs to increase rural broadband access, rules surrounding municipal broadband and the state's definition of "broadband." Search tools include filters for category, year or both by state. There is not net neutrality filter, although related subjects such as competition and regulation, and infrastructure access are available. Cable-industry hub Colorado, for example, wants 100% of rural households to have 25 Mbit/s down by 3 Mbit/s up broadband by 2020, Pew reported. North Dakota has a task force but no formal plan, and Pew did not include any data from Ohio, according to Policy Explorer.
The global smart-doorbell market will surge at a CAGR of more than 69% between 2018 and 2022, Technavio expects. Vendors increasingly are integrating night vision technologies and motion sensors, making these devices more attractive to new consumers and encouraging existing customers to upgrade, the research firm said in a report released today.
The Missouri Telecommunications Industry Association (MTIA) appointed Michael Morey as chairman. Morey is president and CEO of Midwest telco Bluebird Network, which operates a network with over 6,500 fiber route miles of high-speed broadband and fiber-optic connections, as well as more than 135 Points of Presence (PoP) sites spanning the Midwest. MTIA was formed to encourage cooperation and discussion among Missouri's telecommunication providers and promote broadband adoption and deployment across the state.
Related posts:
— Alison Diana, Editor, Broadband World News. Follow us on Twitter or @alisoncdiana.
Branimir Maric, CTIO at Slovak Telekom and T-Mobile Czech Republic, discusses the rise and future of the next-generation network, and the challenges and opportunities that are ahead.
ADTRAN kicks open the door to connected home opportunity for operators, integrating SmartRG into Mosaic Subscriber Experience Suite and debuting new products.
It would cost about $70 billion over 10 years to bring all-fiber fixed-access broadband to rural and small-town America, writes Fiber Broadband Association President and CEO Lisa Youngers in this month's exclusive BBWN column. The ROI? Priceless.
The industry association's latest iteration of its popular TR-069 standard was specifically developed to help providers remotely manage and control smart-home networks.
Cable operator's program for low-income households has sufficient speeds to support the needs of students, veterans, seniors and other consumers who qualify for the $9.95/month offering.



Slovak Telekom and T-Mobile Czech Republic Chief Technology and Information Officer Branimir Maric is using his more than two decades' experience in telco, including 15 years in various ...




Operators cannot protect networks -- their own or their customers -- by building a hard shell around the infrastructure, given the sensitive data dwelling and being sent to and from edge ...




Communications service providers have long talked about improving the day-to-day experience of their customers, but have not always backed up their words with actions and resources.

All Broadband World Forum Perspectives
All resources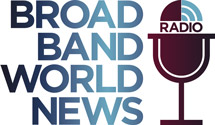 In this insightful Light Reading radio show, Kurt Raaflaub, Head of Strategic Solutions Marketing, will outline the key service provider challenges, deployment considerations, next-gen Gigabit technologies, and service models to win market share in the rapidly growing MDU market.
Wednesday, August 21, 2019
11:00 a.m New York./4:00 p.m.London
The cable industry took a major step in the battle for Gigabit broadband supremacy with the announcement of its 10G Platform vision. The key to realizing this vision hinges on leveraging the right access technologies and network architectures to provide the best balance of benefit versus cost.
One network path has the MSO embracing Next-Generation Hybrid Fiber Coax (NG HFC), which includes:
Distributed Access Architecture (DAA)
Node+0
Full Duplex DOCSIS (FDX)
Virtual Cable Converged Access Platforms (vCCAP)
Fiber-to-the-Home/Business (FTTH/B) is another network option, affording gigabit broadband scalability and 10Gbps service capability. How is an MSO to decide where which option works best and what to do now to prepare its networks for the onslaught of high-bandwidth residential and business applications?
During this webinar, Jack Burton, principal of Broadband Success Partners, outlines current and new access network architectures. Additionally, he will examine the facts and debunk some common misconceptions surrounding both fiber and NG HFC network deployment and maintenance.
Tuesday, September 10, 2019
12:00 p.m. New York / 5:00 p.m. London
Wi-Fi is the foundation of the connected home for consumers; yet, it's often a source of frustration. With the imminent release of the new Wi-Fi 6 standard – combined with a strong Managed Wi-Fi offer – service providers can reverse subscriber frustration while tapping into new revenue streams.
Key topics include:
What's different about Wi-Fi 6 and why it matters to your subscribers
The importance of offering Managed Wi-Fi and its connection to Wi-Fi 6
How you can elevate your brand and gain a strong foothold in the home network.