BBWN Bites: Providers Spent $80B on Infrastructure in 2018 — USTelecom
Also today, CableLabs gets a new top R&D chief, Set TV is really dead and we have some broadband-related financial highlights from BT and Telecom Italia.
US broadband providers invested about $80 billion in network infrastructure last year, a $3.1 billion increase from the $76.9 billion they spent in 2017, according to a report released this week by USTelecom. Between 1996 and 2018, the broadband industry's capital investments total $1.7 trillion, the industry advocacy group found.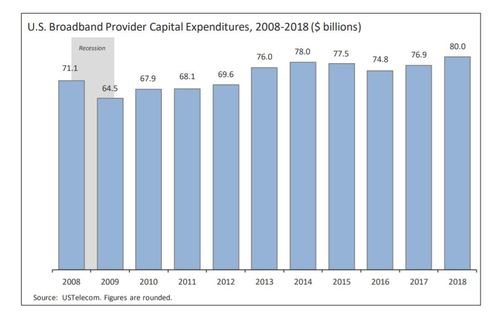 CableLabs has named Mariam Sorond as its Chief Research & Development Officer, reporting to President and CEO Phil McKinney. Sorond -- formerly chief wireless architect and VP, Technology Development, Dish Network -- will direct the execution and adoption of new technologies of CableLabs' members and the industry, working closely with McKinney on technical thought leadership, vision and strategy. She starts this role later in August.
Toss away those ST-110s: Alleged video piracy service Set TV has been buried. On July 31, a California court issued a judgement against Set Broadcast, which ran SetTVNow, ordering it to pay $7.65 million in damages and set a permanent injunction of the offering. The court also wrote a permanent injunction for operation and distribution of the ST-110, an $89 TV-connected streaming device that delivered OTT offerings of more than 500 channels for $20 per month. (See Set TV Is Now Really, Really Dead .)
BT's share price dropped more than 4% during Friday morning trading in London, after reporting declining sales in all major divisions, except Openreach networks business. BT said it will do its part to meet new Prime Minister Boris Johnson's plan to wrap the UK in full-fiber broadband if it's financially viable. Expanding BT's plan to reach the UK's 32 million homes and businesses by 2025 would require adding £30 billion ($36.3 billion) and 30,000 engineers, Reuters reported today. (See BT Decline Continues Despite 5G, Fiber Push.)
Telecom Italia posted a 4.4% revenue drop for the first half of 2019, to about €9 billion (US$10 billion), versus 12 months prior. TIM's fixed-line segment grew: Consumer ARPU increased 8.4% year-over-year and broadband rose more than 17.2% in 12 months. The combined number of retail and wholesale fiber customers increased 45% YoY to 6.3 million.
Cellcom of Israel completed co-investing in wholesaler Israeli Broadband (IBC) and sold independent fiber-optic infrastructure to IBC. Cellcom paid about $16 million for its stake in IBC. IBC paid approximately $51.5 million for the fiber infrastructure.
Related posts:
— Alison Diana, Editor, Broadband World News. Follow us on Twitter or @alisoncdiana.
Branimir Maric, CTIO at Slovak Telekom and T-Mobile Czech Republic, discusses the rise and future of the next-generation network, and the challenges and opportunities that are ahead.
ADTRAN kicks open the door to connected home opportunity for operators, integrating SmartRG into Mosaic Subscriber Experience Suite and debuting new products.
It would cost about $70 billion over 10 years to bring all-fiber fixed-access broadband to rural and small-town America, writes Fiber Broadband Association President and CEO Lisa Youngers in this month's exclusive BBWN column. The ROI? Priceless.
The industry association's latest iteration of its popular TR-069 standard was specifically developed to help providers remotely manage and control smart-home networks.
Cable operator's program for low-income households has sufficient speeds to support the needs of students, veterans, seniors and other consumers who qualify for the $9.95/month offering.



Slovak Telekom and T-Mobile Czech Republic Chief Technology and Information Officer Branimir Maric is using his more than two decades' experience in telco, including 15 years in various ...




Operators cannot protect networks -- their own or their customers -- by building a hard shell around the infrastructure, given the sensitive data dwelling and being sent to and from edge ...




Communications service providers have long talked about improving the day-to-day experience of their customers, but have not always backed up their words with actions and resources.

All Broadband World Forum Perspectives
All resources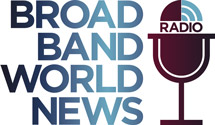 In this insightful Light Reading radio show, Kurt Raaflaub, Head of Strategic Solutions Marketing, will outline the key service provider challenges, deployment considerations, next-gen Gigabit technologies, and service models to win market share in the rapidly growing MDU market.
Wednesday, August 21, 2019
11:00 a.m New York./4:00 p.m.London
The cable industry took a major step in the battle for Gigabit broadband supremacy with the announcement of its 10G Platform vision. The key to realizing this vision hinges on leveraging the right access technologies and network architectures to provide the best balance of benefit versus cost.
One network path has the MSO embracing Next-Generation Hybrid Fiber Coax (NG HFC), which includes:
Distributed Access Architecture (DAA)
Node+0
Full Duplex DOCSIS (FDX)
Virtual Cable Converged Access Platforms (vCCAP)
Fiber-to-the-Home/Business (FTTH/B) is another network option, affording gigabit broadband scalability and 10Gbps service capability. How is an MSO to decide where which option works best and what to do now to prepare its networks for the onslaught of high-bandwidth residential and business applications?
During this webinar, Jack Burton, principal of Broadband Success Partners, outlines current and new access network architectures. Additionally, he will examine the facts and debunk some common misconceptions surrounding both fiber and NG HFC network deployment and maintenance.
Tuesday, September 10, 2019
12:00 p.m. New York / 5:00 p.m. London
Wi-Fi is the foundation of the connected home for consumers; yet, it's often a source of frustration. With the imminent release of the new Wi-Fi 6 standard – combined with a strong Managed Wi-Fi offer – service providers can reverse subscriber frustration while tapping into new revenue streams.
Key topics include:
What's different about Wi-Fi 6 and why it matters to your subscribers
The importance of offering Managed Wi-Fi and its connection to Wi-Fi 6
How you can elevate your brand and gain a strong foothold in the home network.