Broadband consumers can pay up to 45% more than the rate cable and telecom operators advertise for their services, according to research released today by GlobalData.
The rates prospective subscribers see flashed on TV commercials, websites and print ads generally do not include the cost of necessary equipment -- such as a router or set-top box, as well as mandatory service or technology fees. Rather than cost transparency, an attractively-priced bundle can see its monthly fee increase dramatically, said Courtney Rudd, senior consumer services analyst at GlobalData, in a statement. "For example, Xfinity's $40 'Starter Internet plus Basic' TV bundle jumps to $58 per month once the additional $18 in equipment costs are added. Prices can also vary based on location."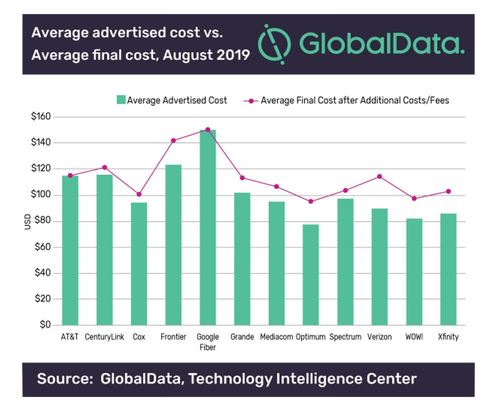 In August 2019, Verizon had the highest add-on costs at $24 per month; Frontier and Altice USA's Optimum followed, with about $17 to $18 in extra equipment fees, the researcher found. However, both AT&T and Google Fiber were more transparent to subscribers: They did not tack on additional equipment or technology fees to the advertised bundle price, GlobalData said. Hidden fees can include early termination fees, set-up and activation fees as well as unexpected contract lengths, wrote BroadbandNow, which tracks operators' prices from around the US.
"The lack of pricing transparency in the US market is an ongoing inconvenience for customers and an open invitation for disruptor aggression," Rudd said.
These findings support an April study that found 48% of Americans have access to wired broadband at $60 per month or less. In its "The State of Broadband in America, Q2 2019" report, BroadbandNow determined less than 5% of consumers in states such as Colorado, Vermont and New Hampshire could connect at 25 Mbit/s or faster for $60 per month, unless it was a promotional rate.
Related posts:
— Alison Diana, Editor, Broadband World News. Follow us on Twitter or @alisoncdiana.