Take Your Smarts to the Edge
Date:
Wednesday, August 29, 2018
Time:
12:00pm New York / 5:00pm London

Speakers
Think about it: The access network touches every single one of your subscribers. Devices in the subscriber network are getting smarter because processing power has increased, and costs have come down. But how does the proliferation of intelligent devices at the edge affect your network? Your first thought is likely increased demand for bandwidth. True, but have you thought about how the increase in devices creates a need for a more secure network? Learn how you can simplify your network, reduce network elements and create a more secure network in the process.
Alison Diana, Editor, Broadband World News


Alison Diana always dreamed of being a veterinarian – until she saw a documentary of a vet removing an alligator's eye. With a love of English but no desire to be a teacher, Alison had no idea what she would do until she earned a four-year, full-tuition journalism scholarship to the School of Visual Arts and fell in love with feature writing.

An internship at Rolling Stone encouraged Alison to mix her love of music and writing until she answered an ad in a local newspaper for a position at a B2B channel publication. And so her 25-year career covering solution and service providers; technologies from HPC and UC&C to cloud and security, and business began.

Alison spent 10 years at CRN, before launching a successful freelance career writing for publications including InformationWeek, VARBusiness, Redmond Channel Partner, numerous TechTarget sites, and Florida Today. She later rejoined UBM as part of the DeusM team before heading InformationWeek's health IT section. Alison – who lives on Florida's Space Coast with her husband, teen daughter, and two spoiled cats – became part of the Light Reading team as editor at The New IP. In late May of this year, she was named Ambassador of the New IP Agency, a not-for-profit independent initiative providing information, education, analysis, community services and testing to support and accelerate the development of a global economy based on open, advanced, virtualized IP networks.
close this window
Teresa McGaughey, Senior Director, Solutions Marketing, Calix


With more than 20 years of experience in the telecommunications industry with a focus on the access network in software development, product management, sales and marketing, as well as a patent in router on a chip technology, Teresa McGaughey has extensive knowledge on what it takes to make networks work.
close this window
Shane Eleniak, Vice President of Systems Products, Calix


Shane leads the product line leadership and development organizations responsible for the delivery of all Calix AXOS systems from the data center access edge to the premises. He has more than 25 years of experience in the telecommunications industry. Prior to joining Calix, Shane was the Group Vice President of the Advanced Broadband Solutions business unit at CommScope, responsible for all edge, access and CPE products within the Broadband Division. Earlier in his career, Shane was EVP of Marketing and Business Development for Alloptic where he guided product, sales, and corporate strategy to deliver the industry's first 10G EPON and RFoG products.
close this window


Webinar Archive Registration
To register for this webinar, please complete the form below. Take care to provide all required information (indicated in
red
). Press
Register
to complete your registration. If you have already registered for our site or for one of our webinars, you may
login
to register without re-entering your information.
Democratic candidate Christine Hallquist, herself a former CEO of Vermont Electric Cooperative, believes the state's digital divide will end if she wins and mandates that all utilities pay to deploy fiber, then sell their wholesale services.
In a new report produced in tandem with SCTE/ISBE, Heavy Reading spells out what cable operators are doing with fiber now, what they plan to do with it in the future and which challenges are the biggest.
Nokia kicks off a busy October by announcing a fixed access network slicing solution, PON interoperability approach and antennas that make a sound business case for 4G fixed wireless residential service.
With the availability of SD-Access products that leverage Amendment 3 Gfast capabilities like 212 MHz spectrum, DTA support and ability to deliver symmetric gigabit speeds, operators can quickly sate the needs of gigabit-hungry customers.
Given their complexity and the number of high-speed demands placed on them, operators could use a "medical checkup for the network," writes Eddy Vergauwen, who leads global services marketing activities for Nokia's Fixed Networks.
Thursday, September 27, 2018
2:00 pm ET / 11:00 am PT
Fast, reliable broadband is essential to how we live, work and play today – and the upcoming arrival of 5G will only further increase demand and reliance on fiber infrastructure. Already viewed by consumers as intolerable, delays, outages or the regular maintenance difficulties associated with operating a network will become further exacerbated when residential subscribers further rely on connected devices for day-to-day life. Just as providers deploy network automation tools to reduce operational issues, they must take similar care to manage consumer expectations when they roll out fiber or new services. This webinar features leaders who will discuss how to manage marketing and consumer expectations at every stage of the network lifecycle. Marketing professionals, c-level executives and policymakers interested in drumming up fiber envy should attend.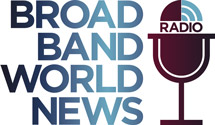 In this insightful Light Reading radio show, Kurt Raaflaub, Head of Strategic Solutions Marketing, will outline the key service provider challenges, deployment considerations, next-gen Gigabit technologies, and service models to win market share in the rapidly growing MDU market.
All resources
BT's Formula for F1 Success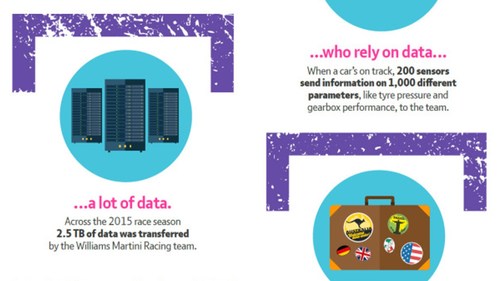 Infographics archive